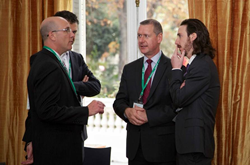 Stem cell banking should not be just for the few, it is a potential life saver and nobody should be denied that, it would be unethical
(PRWEB UK) 11 August 2014
BioEden the specialist tooth stem cell bank calls for a more intelligent approach, transparency and public education regarding stem cell banking.
"The public needs to be made aware that the success of stem cell medicine is largely dependant on the right material being available at the right time," says Tony Veverka Group CEO of the rapidly expanding specialist bank.
"With 1 in 3 people predicted to use stem cell therapy within their lifetime people need to know what their choices are at a time when they are able to do something about it, for example obtaining stem cells from their childrens naturally shed baby teeth."
BioEden pioneered the banking of stem cells from children's baby teeth in 2006 in Austin Texas, and now operates in 21 countries.
BioEden says its unique process has many advantages over other forms and sources of stem cells, and eliminates the costly and painful process of getting stem cells from bone marrow for example.
The BioEden process is patent protected and offers the most natural form of stem cell banking that exists today.
"It is nonsense to say that a dental surgeon needs to extract a child's baby tooth in order to get the best result. The tooth falls out naturally and providing the stem cell bank offers quality transportation and processing, not even dental intervention is required," says Mr Veverka.
There are significant advantages in banking stem cells from teeth over cord blood for example, including the potential for a much wider therapeutic application, its non-invasive, not limited to the number of cells such as with cord blood during the birthing process, and is the least expensive form of private banking there is.
Banking your child's cells is the only way of ensuring a perfect stem cell match, eliminating the emotional distress caused when no match can be found.
"Stem Cell Banking should not be just for the few, it is potentially a life saver and nobody should be denied that opportunity, it would be unethical."
Stem Cells can be banked with BioEden for just £295 with a small monthly charge for storage. Their new and unique Membership Plan means that babies and toddlers can be enrolled to BioEden Membership for an initial subscription of just £5 per month.