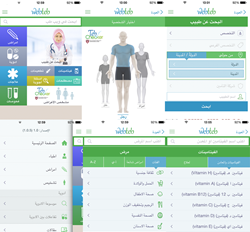 Amman, Jordan and Ramallah, Palestine (PRWEB) August 12, 2014
WebTeb, the leading Arabic health and lifestyle portal, announced today the launch of its Mobile WebTeb App, the first of its kind in Arabic.
The iOS app includes WebTeb's physician backed information to make the health and well-being of Arabic speakers better, by helping them make informed health decisions. It includes WebTeb's TebChecker, a symptom checker that helps patients learn about their condition, a doctors' directory which lists doctors according to the users' location, industry leading indexes, such as a drug, disease, treatment and tests index, as well as the only Arabic language drug interaction tool.
Uniquely, WebTeb has the largest doctor directory in the Arabic speaking market and can show patients doctors based on their location. The company expects to launch an android based app in the coming few weeks, and launch additional apps for diet, lifestyle pregnancy and more.
"Our traffic comes primarily from the GCC and our site is accessed through mobile devices," said Dr. Mahmoud Kaiyal, Founder and CEO of WebTeb. "As people access health information through their mobile devices, we want to make our information even more accessible."
You can download the app for iPhone from here.
About WebTeb
WebTeb's goal is to provide Arabic-language comprehensive health and medical information so that its Arabic-speaking users can live better and healthier lives. WebTeb publishes exclusive and high-quality evidence-based medical information and continuously updates it. WebTeb strives to be the leading professional and reliable source of information for Arabic-speaking users and to provide a platform for their interaction with health practitioners, hospitals, doctors, dentists, pharmacies, pharmaceutical companies, insurance companies, therapists, and health education institutions.