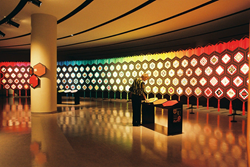 Grand Rapids, MI (PRWEB) August 10, 2014
The QUILT OF BELONGING, a Canadian quilt that spans over 120 feet, will be on display at AQS QuiltWeek – Grand Rapids. The quilt is comprised of 263 blocks representing all Canadian aboriginal groups and all seven continents.
Artist Esther Bryan began the Quilt of Belonging project in 1998 after a recent trip to Slovakia where her father was born. She invited contributors from across Canada to take part in the construction, with all the artists bringing talent, ideas, and materials from their own cultural histories.
Over 200 groups of people participated, and the resulting quilt reaches over 120 feet in length and stands 10 feet high. The final artwork fulfills the project's mission statement: "QUILT OF BELONGING is a collaborative work of art that recognizes our diversity, celebrates our common humanity, and promotes harmony and compassion among people."
The quilt challenges the traditional definition of "quilt" through its unique scale and variety of media. Styles include bobbin lace and oshie (a Japanese patchwork technique), and materials include sealskin and tapa cloth.
Touring since 2005, the quilt will make its next stop in Grand Rapids during AQS QuiltWeek. AQS QuiltWeek is a traveling quilt show hosting contests, special exhibits, quilting workshops, and a large Merchant Mall with hundreds of quilt-related vendors.
The Exquisite Quilts of Michigan's Own Aileen R. O'Toole Stannis will also be featured during AQS QuiltWeek – Grand Rapids. Twenty-seven of Aileen Stannis' quilts will be on display, including BALTIMORE REMEMBERED, which is a permanent fixture of The National Quilt Museum in Paducah, Kentucky.
AQS QuiltWeek – Grand Rapids will be at DeVos Place Convention Center from August 20 to 23. Exhibit hours are from 9 a.m. to 6 p.m., Wednesday through Friday, and 9 a.m. to 5 p.m., Saturday. For more information about the American Quilter's Society, please visit quiltweek.com/grand-rapids or call 1-270-898-7903.
About the American Quilter's Society:
The American Quilter's Society is the largest quilting membership organization in the world. For 30 years, AQS has been the leading voice in quilting inspiration and advice through a broad suite of products, magazines, books, live events, contests, workshops, online networks, patterns, fabric, and catalogs. At AQS, we believe that with inspiration and advice, the creatively minded individual can take their quilting projects beyond what even they had imagined. The leading authors in quilting choose to publish with AQS; the best in quilt artistry select AQS events to display their work; the newest quilters learn from the knowledge and inspiration of AQS members. For more information about the American Quilter's Society, please visit americanquilter.com or call 1-270-898-7903.