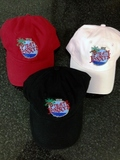 Get your Pirate Gear,gift items & new Recipe cards for any special occasion
Clearwater, FL (PRWEB) August 22, 2014
Pirate Jonny's Caribbean BBQ Rubs, Seasonings & Sauces continues expansion of products in providing new recipe cards, fun t-shirts, and caps for consumers to enjoy for casual wear.
Hailing from Clearwater, Florida, Pirate Jonny, aka, Jonathan Toner, founder, decided that customers would appreciate having 1 card with two to three recipes featuring different flavors of the Caribbean, in addition to the recipes on the website. The recipe cards will feature "easy to make" creations including a picture of one of the dishes to tantalize the taste buds.
In addition to the recipe cards, Pirate Jonny's has created new apparel with fun and vibrant artwork on its caps and t-shirts. Pirate Jonny's logo is featured on the caps and shirts as well as showing off Syrena's Seduction's award winning logo. Consumers can find these colorful selections on the Pirate Gear and Gifts section of the website. Pirate Jonny new recipe cards can be found in local stores and by request.
As the retail industry starts gearing up for Holiday items, consumers can pick out ANY OCCASION fun gifts of Caribbean flavor in rubs, seasonings, sauces, seasoned nuts, Pirate Chili Mix, Syrena's Jerk hot sauce, clothing items and new recipe cards.