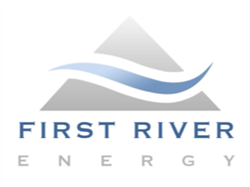 'With the support of substantial capital providers, we are revolutionizing and improving the midstream value chain for the small independent producer.' - Johan Themaat, CEO, First River Energy
Denver, CO (PRWEB) August 11, 2014
First River Energy LLC today announced it has commenced operations as a midstream energy company based in Denver. First River Energy is a newly formed crude oil gathering and marketing company focused on small independent crude oil producers, servicing them through strategically located midstream assets and real-time, web-based technologies.
First River Energy will focus on developing infrastructure for the gathering and marketing of crude oil and other oil-field liquids produced in under-served markets, expanding through both organic growth and strategic acquisitions.
First River Energy's founders and management team bring significant experience as key managers of private and publicly traded midstream entities. Collectively, the team has helped close over $1 billion in midstream acquisitions in the last year through past leadership roles at midstream energy companies.
"We are fortunate to have an experienced team that previously worked together to build successful midstream companies," said CEO Johan Themaat. "With the support of substantial capital providers, we are revolutionizing and improving the midstream value chain for the small independent producer. The mission of First River Energy is to provide operational excellence and transparency to its customers and channel partners."
First River Energy's capital partners include private equity firms Platte River Equity and Fisher Capital, along with a diverse group of high net-worth private investors active in the energy industry.
About First River Energy
First River Energy is a Denver-based based crude oil midstream company focused on evolving energy logistics through seamlessly connecting producers to markets. For more information, visit http://www.FirstRiverEnergy.com.
About Platte River Equity
Based in Denver, Platte River Equity is a private equity investment firm focused on small and middle market operating companies. Utilizing the significant operating expertise of its principals, Platte River Equity serves as a value-added partner to the management teams of its portfolio companies. For more information, visit http://www.PlatteRiverVentures.com.
About Fisher Capital
Fisher Capital is a family owned and operated private equity firm based in Denver. With roots in the cable television industry, the company's leadership team brings together complementary expertise in banking, real estate and investment management. For more information, visit http://www.Fisher-Capital.com.