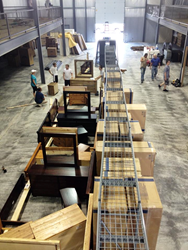 We're bringing a new way to shop for furniture to Morgantown!
Morgantown, WV (PRWEB) August 11, 2014
Pac 5 Furniture was conceived by Jim Prutilpac, the owner of Chuck's Furniture, because Morgantown lacks a true value oriented store. Prospective furniture buyers could go to a big box store but they would limited to lower quality furniture and associates that knew next to nothing about furniture. With Pac 5, customers get the best of both worlds: value prices and expert service.
Over the past few months, construction on a brand new building designed to be a hipper, more high energy experience has raced along. Many people, particularly younger generations, feel the furniture buying experience is boring or too formal. Pac 5 is here to change that. There has never been a furniture store in Morgantown with the same concept. Pac 5 will make furniture shopping fun and affordable for anyone.
As the finishing touches are being completed, the store will be open to customers. As of this writing, roughly 40% of the product has arrived. Because there will be be 25,000 square feet of furniture, this is still a considerable amount. Over the next week, the items will probably double in size. Already in stock is the Duck Dynasty line from Catnapper/Jackson. The show is a hit in this area and should draw a lot of attention.
Stop in now to check out the newest furniture store in town.