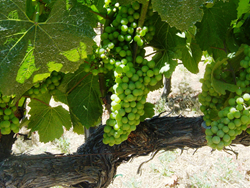 The diversity of style demonstrated by Napa Valley wine makers is remarkable... there is a Napa Valley Sauvignon Blanc for everyone's palate.
Napa Valley, California (PRWEB) August 12, 2014
Cabernet Sauvignon is 'King' in Napa Valley but over the past two vintages, Napa's other Sauvignon, Sauvignon Blanc, has seen astounding growth in acres planted and tonnage harvested. Now in fourth place (behind Cabernet, Chardonnay and Merlot) in terms of tonnage produced, despite the fact that Sauv Blanc demands about a third the price per ton as Cabernet Sauvignon. According to several vintners and winemakers from Napa, although the yield for all varieties may be lower this year, the growth trend for Sauvignon Blanc will likely continue beyond the 2014 harvest.
In fact, the 2014 vintage promises to have more flavor concentration offering winemakers the opportunity to make an even more striking 2014 Sauvignon Blanc. Winemaker Gary Warburton of Phifer Pavitt, a boutique winery in Calistoga, says, "I expect a bit more intense flavor profile from the 2014 vintage which will allow us to extract enhanced aromas, flavors, and mouth-feel during fermentation and aging process." Phifer Pavitt produced about 600 cases of their 2013 Napa Valley Sauv Blanc and looks to do the same this year.
Jeff Keene, originally from New Zealand, has been making wine in Napa for 16 years. He has been at Cornerstone Cellars for the past 6 years and established their Sauv Blanc program in 2009 with their first 1,000 case vintage. Keene sources his Sauvignon Blanc from St. Helena. For him, "the Sauv Blanc is showing a similar quantity to 2013 and the quality of the fruit looks fantastic, I am very excited by 2014. I am looking forward to explosive tropical flavors with a zesty citrus note to clean the palate."
St. Supéry, located in Rutherford, produces about 62,000 cases of Sauvignon Blanc, 100% of which is from their estate vineyards east of St. Helena behind Howell Mountain. St. Supéry's Michael Scholz, another south of the equator (Australia this time) winemaker, believes that Napa's climate, featuring cold nights, foggy mornings and good sunshine, "allows for steady and balanced ripening thereby producing bright, crisp and youthful Sauv Blanc". Besides their Estate Sauv Blanc, St. Supéry produces a smaller quantity of their vineyard designated Dollarhide Sauvignon Blanc, which uses some oak for a softer, creamier and citrusy-lime profile. Twenty thirteen is the current release for St. Supery Estate Sauvignon Blanc.
Although J. Lohr produces many varietals from various American Viticultural Areas (AVA), including Sauvignon Blanc from the Arroyo Seco AVA in Monterey County, their Carol's Vineyard in St. Helena is distinctive for a couple of reasons. Named after owner Jerry Lohr's late wife Carol, the vineyard produces Cabernet and Sauvignon Blanc. The 2013 release is about 3,000 cases and has a passion fruit-guava fruit profile. Winemaker Karl Antink describes Carol's as a "prettier Sauvignon Blanc" because of its subtler acids and creamier mouth-feel, which he attributes to the terroir and, in part, to the use of Acacia barrels. Of particular note is that $2 from the sale of each bottle of this special wine goes to support the National Breast Cancer Foundation in honor of Carol Waldorf Lohr.
Herb Lamb Vineyards' Jennifer Lamb, co-owner with her husband and winemaker Herb, believes that "SB is a great introductory wine for any meal. Great with salad, dessert, seafood - Thanksgiving with turkey or Easter with ham." She calls their Yountville vineyard, the Mello Vineyard whose 2013 current release produced 550 cases, perfect for growing Napa-Style Sauvignon Blanc. They use the same 2 rows each year, which is a field blend of Clone 530, 376 Bordeaux and Musqué utilizing about 1/3 of each. She believes that their Sauv Blanc can be held for 2 to 3 years and that they are "crisp, fresh, fruity and bright".
"Napa Valley is a fantastic place for producing Sauvignon Blanc." Says, Summertime in a Glass Executive Director, Bryan Dias, "Although the region is most widely known for its Cabernet Sauvignon and Chardonnay, some argue that much of the Valley's terroir is better suited for producing great Sauv Blanc than its white wine grape cousin. Additionally, the diversity of style demonstrated by various Napa winemakers is remarkable. There is a Sauvignon Blanc in Napa Valley for everyone."
Summertime in a Glass (SIAG) is an advocacy and information group that seeks to promote, educate and entertain wine enthusiasts and the industry itself on the world of Sauvignon Blanc. They strive to do so by being informative, yet never too serious or dogmatic. Wine is fun and social. Sauvignon Blanc is known as a great food wine but many styles also make for great "porch wines." This all means that it is meant to be shared and enjoyed, not pontificated!
See more at: http://www.sauvblanc.org/