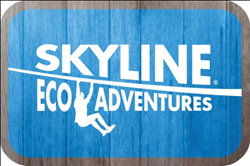 MAUI, HAWAII (PRWEB) August 12, 2014
Skyline Eco-Adventures, Hawaii's award-winning zipline company and operator of the first zipline course in the United States, has launched a first-ever Bike n' Zip tour on Maui in a new partnership with Maui Downhill, Maui's first bike company.
The Bike n' Zip Haleakala Sunrise Adventure tour begins with a Maui sunrise at Haleakala's summit of 10,000 feet, also known as the "House of the Rising Sun." Guests will learn about the history of Haleakala, the world's largest resting volcano, and its significance in Hawaiian culture, before gently descending down 21 switchbacks with bi-coastal views, starting from 6,500 feet on the mountain's western slopes.
Guests will then trade their bike helmet for a zipline harness upon arrival at the Skyline Eco-Adventures Haleakala tour, the first zipline course in the U.S. and a 2014 TripAdvisor Certificate of Excellence award winner. The tour's five ziplines on the slopes of Haleakala feature up to 2 hours of canyon crossings, 90-foot drops through towering eucalyptus trees, a swinging bridge, and Maui's only "pendulum" up-and-back zipline, which tops 45 mph. Guests will also have the opportunity to experience the upcountry beauty of a neighboring Maui lavender farm.
Bike n' Zip tours start at $249.95 per person for a full-day experience of up to 9 hours, including complimentary transportation options and a continental breakfast. Book online at zipline.com/bike-n-zip to save 10 percent or call (888) 864-6947.
Skyline Eco-Adventures was recently named among Hawaii Business magazine's 2014 Best Places to Work in Hawaii for the sixth consecutive year. Skyline was also selected among more than 100,000 picks in HAWAI'I Magazine's second-annual Reader's Choice Awards, earning top 2014 honors in three categories: No. 1 Zipline Company; No. 1 Zipline Course, Ka'anapali, Maui; and No. 1 Land Activity/Adventure Tour Company.
Maui Downhill has offered bicycle safaris since 1984, guiding more than 1 million visitors down Haleakala and touring more than 11 million miles on custom-built bikes.
Skyline Eco-Adventures is a leading commercial zipline company that thrills more than 60,000 guests annually with "knock-your-socks-off" experiences. As the first commercial zipline operator in the United States, Skyline also specializes in the comprehensive design, development and operation of world-class zipline adventures. Skyline operates two Maui zipline tours at Ka'anapali and Haleakala, in addition to the Akaka Falls Skyline Adventure on Hawaii Island, and the Poipu Skyline Adventure on Kauai. Call (888) TO-GO-ZIP or visit http://www.zipline.com.
Media Contact:
Teddi Anderson
TLC PR
808-535-9099
Teddi(at)TLCPR(dot)com