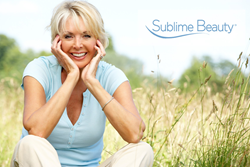 Three helpful hints to refresh and revive summer skin are presented from Sublime Beauty®.
St. Petersburg, FL (PRWEB) August 11, 2014
In the heat of the summer, skin takes a bit of a beating. Here are three ways to refresh and improve skin:
1) Use a light serum to soften, hydrate and boost collagen. "When we are outdoors more in summer, perhaps at the beach or pool, or in highly air-conditioned environments, skin can become more dry and stressed," says Kathy Heshelow, founder of Sublime Beauty®.
A light serum like the Collagen Peptide Serum has soothing aloe and Matrixyl, a tremendous peptide that boosts collagen in the skin. It was recently highlighted in Best Pics Magazine and Lucky Magazine.
2) Use a nourishing facial mask that also pulls out summer grime.
The Collagen Anti-Oxidant Mask from Sublime Beauty is spa quality, and contains ingredients that sooth and hydrate beautifully. In addition, French White Clay gently exfoliates so that skin is clean, refreshed, soft and glowing. Just 10-15 minutes weekly or twice monthly can do the trick.
3) Dry Skin Brush for well-being and improved skin quality.
Skin Brushing will help exfoliate toxins and dead cells, and encourage the natural turnover of skin. Buffing the body with dry brushing brings more benefits than just exfoliation. Body Brushing boosts blood circulation, moves the lymphatic system, reduces cellulite and even elevates mood.
"We have a special website devoted to Skin Brushing," says Heshelow, "with instructions, testimonials, history and more. We are big fans of this great practice for well-being, which takes only 10 minutes per day. Our perfect little brush was featured in Glamour Magazine, and our new long-handled brush will be available next month."
ABOUT: Sublime Beauty® is a quality skincare company that focuses on products to "Age Younger." Ingredients help to boost collagen, hydrate, relax wrinkles and improve skin. A niche includes healthy Skin Brushes. The company webstore offers free standard shipping and a VIP Club. Sign up for Secret Sales on the site. Products also available on Amazon.