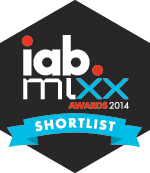 Seattle, WA (PRWEB) August 11, 2014
Today, Mixpo, the leading video advertising technology company, announced that one of its campaigns, "Passport to Texas", was named to the 2014 IAB MIXX Award shortlist. Every year, the most innovative interactive advertising campaigns compete to win a prestigious IAB MIXX Award. In partnership with online content network CBS Interactive and advertising agency Slingshot, Mixpo was elated to bring this campaign for Texas Tourism to life and be one of the finalists in the IAB Rising Star Digital Video Ad category.
"It is an honor to be named to the IAB MIXX Award shortlist," said Walter Harp, VP of Marketing, Mixpo. "With videos that spark curiosity and engaging interactivity, it is no wonder this campaign beat benchmark performance metrics and caught the eye of the IAB MIXX Awards' judging panel. This was outstanding work and collaboration by the teams at Texas Tourism, CBSi, Slingshot, and Mixpo."
"The shortlist for the 10th anniversary IAB MIXX Awards spotlights campaigns that confirm the sophisticated creativity that is now the hallmark of digital marketing," said David Doty, Executive Vice President and CMO, IAB. "Interactive has become central to the marketing mix across the globe, and these nominees exemplify a new breed of digital advertising that embraces artistry, interaction, and rich storytelling with style and scale."
Last year, Mixpo was recognized as a winner in the first-ever IAB Digital Video Rising Star ad unit competition for the Filmstrip and Ad Control Bar formats. The formats were selected from dozens of entries as two of the best in-stream, interactive digital video ad product concepts, based on user experience, branding, functionality, integration, and how easily the ad format could be widely adopted across the digital video ecosystem. For the "Passport to Texas" campaign, Mixpo and its partners selected the IAB Digital Video Rising Star Filmstrip unit because of its engaging capabilities and high visual impact.
Winners will be announced at the IAB MIXX Awards Show on Tuesday, September 20th, at the Crowne Plaza Hotel Times Square in New York City.
A sizzle reel of the "Passport to Texas" campaign can be viewed here: http://mixpo.co/TexasTourism.
About Mixpo:
Mixpo enables agencies and media companies to build, deliver, and measure interactive video ads on all screens. The company's mStream video ads can be published on premium websites, ad exchanges, and in the newsfeeds of all major social sites. mStream video ads operate in any format: in-stream, in-banner, in-app, and in-social. Set up and execution is fast and easy, whether you do-it-yourself or use Mixpo as a managed service.
In 2014 and 2013, Mixpo was selected by FORBES as one of America's Most Promising Companies. Mixpo, Inc. was founded in 2007 and is headquartered in Seattle, with offices in New York, Boston, and Victoria, BC. More information can be found at http://www.mixpo.com.