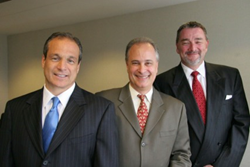 Los Angeles, CA (PRWEB) August 12, 2014
Attorney Alexis Galindo with Curd, Galindo & Smith, LLP announces the settlement of the case.
The court records show that Los Angeles Superior Court case No.: KC063384 has now settled.
Michael and Anthony Vasquez filed a lawsuit against Garvey Tyler LLC, Refoua LLC, Equitable Portfolio Corp. and Portfolio Management LLC in relation to the death of their sister, Camile Vasquez. Equitable Portfolio and Portfolio Management were later dismissed.
Mr. Galindo represented the brothers of the decedent, Michael Vasquez and Anthony Vasquez. Mr. Galindo's clients claimed in the lawsuit that on March 20, 2010, their sister, Camile was trapped inside a mobile home she lived in because of a locked padlock outside of it. When a fire occurred, a neighbor rescued Camile, but she suffered serious burns to more than 36 percent of her body. Camile later died from complications associated with the burns. Camile was unemployed and also suffered from liver disease. Mr. Galindo's clients argued that Garvey Tyler and Refoua, which owned the trailer park and mobile homes, negligently maintained them and caused a dangerous condition and Camile's death. In addition, plaintiff alleged that the trailer park had many safety violations and did not have required smoke detectors. Last,the court documents state that an electrical defect in the junction box existed, and that a sliding door was not working, causing defendants to fix it with a padlock, trapping Camile when the fire happened.
The defendants contended that Camile brought about the fire because she left a stove on and that she and her boyfriend placed the padlock on the door. In addition, defendants denied the existence of any safety code violations.
INJURIES: Camile suffered burns and death, and her brothers sought loss of love, comfort and society.
SETTLEMENT DISCUSSIONS: Plaintiffs demanded $1 million which was the defendants' policy limits and the defense offered $400,000. RESULT: The parties reached a settlement amounting to $950,000.
Mr. Galindo is a founding member of Curd, Galindo &Smith, LLP which is a full service law firm that represents both corporate and professional clients and those who have been seriously injured or have lost a family member due to an accident, defective product, police misconduct or negligence. The law firm has recovered millions of dollars for its thousands of clients since 1995 by winning complex and challenging business disputes, death and injury cases involving police misconduct, traffic collisions, work place injuries and defective products, including defective automobiles, against some of the world's largest companies and governmental agencies.
Mr. Galindo received his business degree from University of Southern California in 1982 and his law degree in 1985 from the University of Oklahoma. Mr. Galindo has been a lawyer and real estate broker for over 25 years. He has won numerous jury verdicts and settlements in the area of personal injury, products liability and civil rights/police misconduct cases. Mr. Galindo is a member of ABOTA which is an organization of attorneys representing both plaintiffs and defendants in civil cases. All of the attorneys who belong to ABOTA have earned great distinction at trial. Mr. Galindo is a member of Million Dollar Advocates Forum, Consumer Attorneys of California, Consumer Attorneys of Los Angeles, NPAP (National Police Accountability Project), National Lawyers Guild, National Association of Realtors and California Association of Realtors.