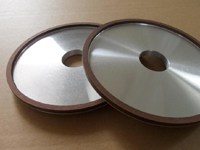 Zhengzhou, China (PRWEB) August 12, 2014
iAbrasive made an analysis on effective ways to improve diamond resin grinding wheel service life on Tuesday.(See the original article at: http://www.iabrasive.com/articles/how-to-improve-diamond-resin-grinding-wheel-service-life)
In general, although diamond surface metallization has considerate advantages compared to ordinary abrasive grains, simply imitating foreign usage is not practical. In fact, Chinese abrasives manufacturers can adopt another approach by adding over 20% Ti and Ni diamond in bonding agent, thus grinding wheel service life is greatly enhanced without reducing sharpness. Proper plating abrasive grains in bonding agent play a protective role.
Experiments prove that resin grinding wheel produced in the above approach has service life 1 to 1.2 times longer than ordinary diamond abrasive grains. In processing, materials should be evenly mixed, which is quite important.
For more information about abrasives industry, please visit: http://www.iabrasive.com/.