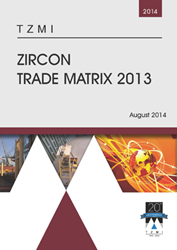 The only publication in the world that links production with imports and consumption.
(PRWEB) August 13, 2014
TZ Minerals International (TZMI) is pleased to announce the release of its latest data publication on the zircon sector: Zircon Trade Matrix.
This publication (released August 2014) focuses on the 2013 calendar year and is the 15th annual update of TZMI's analysis of global trade in zircon products.
The format of the matrix and data has evolved during the years but has always been designed to allow year-to-year comparisons and is the only publication in the world that links production with imports and consumption.
The report is presented in the following sections:

Review of 2013: Summarizes the main trends and other important issues which have arisen from the analysis of the trade data.
Appendix A: Contains the global trade matrix, which shows in a single table the main trade flows across the world.
Appendix B: Contains, for the 10 largest zircon consuming countries, the import tonnage and prices for zircon sand and processed zircon.
Appendix C: Contains, for the six largest zircon sand exporting countries, the export tonnage and prices for sand for each destination country.
The Zircon Trade Matrix is the only publication in the world that links production with imports and consumption.
Key elements of the report include:
Trade information is qualified on a monthly basis and top-down and bottom-up analysis of supply and demand is performed by TZMI's analysts.
Consumption of zircon is broken down into end-use categories, including ceramics, refractories, foundries, and specialty chemicals and materials.
Consumption of zircon by end-use category is shown for each country, allowing for a very detailed consumption picture to emerge, for example analyzing how much zircon sand was imported by China and then went on to be used in the ceramics industry.
Stock movement change by year for each country.
Average monthly prices are provided for the year to May 2014, along with preliminary analysis of the market to May 2014.
The annually released Zircon Trade Matrix is available now for A$4,300.
Please contact marketing(at)tzmi(dot)com or visit http://www.tzmi.com to order your copy.
*For Australian Subscribers – the price shown excludes GST.
About TZMI:
TZ Minerals International (TZMI) is a global, independent consulting and publishing company with offices in Australia, China, the US, and Africa. The strength of TZMI's consulting services stems from extensive practical experience in the mineral sands, titanium dioxide and coatings industries, and from a comprehensive database, which has been built up over many years.
TZMI has proven expertise gained from our consultants having many years of direct operating experience in the industry in chief executive, senior operational, analytical and marketing roles.
TZMI's publications and data services support the consulting activities and ensure up-to-date, high quality, and comprehensive data,analysis and information across the mineral sands, zircon, and TiO2 pigment industries.
TZMI provides operational and technical expert advice on many areas, including:
Mergers and Acquisitions
Market Assessments and industry analysis
Due diligence
Pre-feasibility studies incl. preliminary capital and operating cost estimation
Competitive cost analysis and benchmarking
Technical reviews and audits
Resource assessments
Physical separation test work
Flowsheet development
Customised data analysis and reporting
FURTHER INFORMATION:
Tracey Kelly – Marketing Manager
TZ Minerals International
E: tracey(dot)kelly(at)tzmi(dot)com
P: +61 8 9359 6000