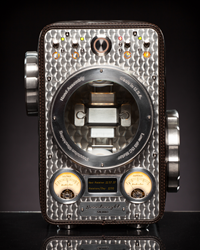 (PRWEB) September 17, 2014
Bold. Distinctive. Unconventional. Those are the characteristics defining the visual DNA of an Ambrelus watch winder. Designed, manufactured and assembled in America, Ambrelus employs elements not normally associated with the genre. Engine-turned finishes mirroring the guilloche patterns found in many high-end mechanical watches. Analogue voltage and current meters that harken back to vintage stereo equipment of the 60s and 70s. The reassuring click of mechanical toggle switches. Diamond quilted surfaces made from the finest Italian leathers. Every material meticulously selected with obsessive attention to detail. A worthy companion for the mechanical watches in any collection. Welcome to the world of Ambrelus.
DREADNOUGHT
Dreadnought - A term used in the early 20th century to describe the most heavily fortified and fearsome fighting vessels is a fitting name for our inaugural product. The world's finest time pieces have finally met their match. Assembled by hand. Fully programmable. CNC-machined aluminum parts throughout. Custom-made analog meters. Unique motorized transport. Serialized name plate. Quiet low-gauss electronics and motors. Magnified viewing port. Fully adjustable illumination. Available in three (3) standard finishes with owner-specific options available upon request. Backed by a 3-year limited warranty. The Dreadnought represents the beachhead of our multi-year product plan to establish Ambrelus as a design leader in the industry. Available for delivery throughout the world. Orders are now being accepted at http://www.ambrelus.com.
MSRP - $ 9,995 USD
ABOUT AMBRELUS
Ambrelus seeks to seamlessly blend old-world craftsmanship and 21st century performance in unique and imaginative ways. Engineering and artistry can co-exist. Digital efficiency perfectly complements analog beauty. Perhaps we can serve two masters after all. The engineers, artisans and craftsman employed by Ambrelus are unified in designing and building highly desirable bespoke limited-edition watch winders that tug at the emotions and are as visually interesting as the timepieces in your collection.
Ambrelus is the creation of Ed McNack, a graduate of M.I.T. and Wharton, watch collector and car aficionado inspired by the artistry and craftsmanship of "classics" from such icons as McIntosh, Bentley, Pagani and Spyker. Our destiny is to be as highly esteemed in our realm as the aforementioned greats are in theirs.