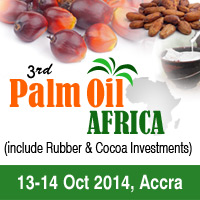 3rd Palm Oil Africa conference offers vital industry dialog on 'Mounting Pressures on Sustainability & New Challenges for the Palm Oil Industry'.
Accra, Ghana (PRWEB) August 13, 2014
The movers and shakers of the African palm oil industry along with the cocoa and rubber investors and stakeholders are gearing up for the African edition of CMT's Palm Oil series, which offers vital industry dialog on 'Mounting Pressures on Sustainability & New Challenges for the Palm Oil Industry'.
Topping the highlights are SIAT's session on 'Sustainability in Rubber and Oil Palm Plantations in Africa', Agro Inc's perspective on 'Liberia's Oil Palm Sector and the Rubber Value Chain', CIRAD's views on 'Oil Palm Smallholders: Farm Characteristics, Contribution to World Production and Comparison of Development Schemes' and 'Developing Large Scale Sustainable Plantations in Public Private Partnerships' by Olam International.
While Olam Ghana will share insights on 'Sustainable Cocoa Program and Value Chain Activities in Ghana', Institute of Agricultural Research for the Development will provide an analysis of 'Rejuvenating Cameroon's Cocoa Industry – Challenges in Increasing Yield and Quality'. A session on 'Upstream and Downstream Investment Opportunities in the Rubber Industry in Nigeria' will be delivered by Rubber Research Institute of Nigeria and another on 'Extraction of Energy Biomass from Rubber Plantations in Ghana' by Africa Renewables Ltd.
Other key sessions include:

An Update on Collaboration of Presco-PalmElit Project in Nigeria – Presco PLC
Cameroon: Palm Oil Plantations and the Governments Implementation Program to Improve the Industry – Ministry of Agriculture and Rural Development
Development Equity and its Role in the Palm Oil Sector - AAF's Palm Oil I Investments in Sierra Leone and DRC – Golden Oil Holdings
Reviving and Expanding the Sangha Palm and RNPC National Plantations Projects in Congo – Eco Oil Energy
WWF Role in Implementation of Responsible Palm Oil Development through POIG ( Palm Oil Innovation Group ) Guidelines – WWF CARPO
POME Use for Energy and Fertilization: First Largest Biogas in Africa (Nigeria and Ghana) – Biotec International
Enhancing Productivity of Smallholders with Improved Distribution of High–Quality Agricultural Inputs, Fertilisers & Credit Facilities – Wienco
The event is expected to be attended by various stakeholders along the palm oil, cocoa and rubber value chain.
For more information visit the conference website / contact Ms. Huiyan at +65 6346 9113.