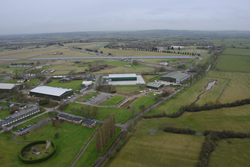 Nigel MacKenzie, project manager at Westcott Venture Park said: "Rockspring is accelerating its investment in the park by developing this speculative facility to deliver much needed premises for the business marketplace."
Buckinghamshire (PRWEB UK) 13 August 2014
The permission obtained from Aylesbury Vale District Council allows a new speculative development of 45,000 sq ft to include a first phase of 24,000 sq ft of accommodation comprising seven units, ranging in size from 2,000 sq ft to 6,000 sq ft. The development will be set on three acres of the 650-acre site and will appeal to a wide range of businesses.
Construction is scheduled to begin in October 2014. Westcott Venture Park said it aims to open the new premises for occupation in spring 2015 with a view to rolling out phase two the following year.
Overall investment in the new development is estimated to be in the region of £3 million for the construction phase, and could house over 50 workers when fully occupied.
Nigel MacKenzie, project manager at Westcott Venture Park said: "Rockspring is accelerating its investment in the park by developing this speculative facility to deliver much needed premises for the business marketplace."
"We have seen significant interest in land and facilities at the park, which has been running at 95% occupancy for some time. This interest, coupled with the lack of Grade A space in the region has prompted the Fund to move forward with this new phase of development at Westcott Venture Park."
The park is now home to 71 businesses employing over 400 people and is managed by Lambert Smith Hampton.
In the last two years Rockspring has invested over £6 million in infrastructure including a new estate road and gatehouse complex, which has opened-up a large amount of land for further development.
If you would like to find out more about Westcott Venture Park, visit http://www.westcottventurepark.co.uk.