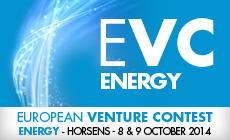 Brussels, Belgium - Horsens, Denmark (PRWEB UK) 11 August 2014
The European Venture Contest Energy (EVC Energy) has established itself as a specialized renewable energy venture forum of about 100 attendees mainly split into two halves - entrepreneurs and investors. This year, the third edition will take place on 8 & 9 October, at Vitus Bering Innovation Park, in Horsens, Denmark. The EVC Energy is an initiative of Europe Unlimited, supported by hosts, INSERO, Invest in Denmark, and City of Aarhus; and partners, Municipality of Horsens, Vitus Bering Innovation Park, CLEAN and INCUBA.
The EVC Energy will unite selected 30 early stage and emerging cleantech companies, and 30 VC's, Corporate VC's and business angels. Among others, notably, Total Energy Ventures, BASF Venture Capital, Zouk Ventures, Climate Change Capital, Greencoat Capital, Niton Capital, Aster Capital, Intesa Sanpaolo, Idinvest Partners, Vaekstfonden and Hazel Capital have signed up to be on the Investor Jury.
Application is open to all European cleantech companies active in energy production from sustainable sources, energy infrastructure and distribution, and energy efficiency and storage. Interested companies can register at http://www.e-unlimited.com/evcenergy before 15 August. Only Denmark-based companies can register till 25 August. The applications will be screened online by the investor jury and top 30 will be invited to pitch on 9 October.
Event Format
On 8 October a half-day venture academy and an evening reception will precede the actual contest. The purpose of the venture academy is to sharpen the investment readiness appeal of the presenting entrepreneurs and give them more time to network and get to know fellow entrepreneurs, mentors and expert jurors. On the other hand, the evening reception serves as an ice-breaker, bringing together all the participants in an informal setting for a networking evening.
At the daylong contest on October 9, presenting companies will have up to 8 minutes each to convince a panel of investors about their innovations, scalability and business potential. Furthermore, marathon networking and idea sharing will go on beyond the breakout rooms, over coffee in the corridors, and lunch in the atrium. There will be a rather hands-on and informal setting to improve collaboration, innovation and prosperity for everyone.
Veronique Hervouet, Senior VP, Investments, Total Energy Ventures commented on EVC Energy 2013, "Very professional event, well focused on offering entrepreneurs opportunity to pitch to investors and vice versa."
European Venture Contest & European Venture Summit
The Award Winners (Top 25%) of the EVC Energy will get direct access to the European Venture Contest Grand Finale, the European Venture Summit (http://www.e-unlimited.com/evs), on 8 & 9 December 2014, in Dusseldorf. This is Europe's largest venture capital match-making event with over 120 investors and 120 award winners from all Europe Unlimited's regional and sector focused events. In addition to that, the award winners will also get a pitching slot at the Nordic Venture Forum (http://www.e-unlimited.com/nvf), on 6 November 2014, in Copenhagen.
About the Organiser
Founded in 1998, Europe Unlimited (http://www.e-unlimited.com) is a private Belgium-based champion in entrepreneurship support. Europe Unlimited is the organization behind the International Venture Club (http://www.iventureclub.com), a global collaborative network of independent, corporate and institutional investors; the TechTour (http://www.techtour.com), Europe's leading platform for growth stage entrepreneurs and investors; and several other pan-European initiatives (http://www.e-unlimited.com/events/list-upcoming.aspx) in collaboration with regional and national development bodies, and the European Commission.
Note to Editors: Europe Unlimited would be delighted for editorial attendance at the EVC Energy – Press are welcome free of charge. For more information, contact:
Mashrukh Talukder
mashrukh(at)e-unlimited(dot)com
+32 (0) 2 643 36 81