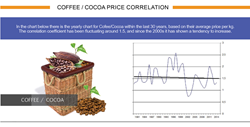 London, UK (PRWEB) August 12, 2014
IFC Markets is glad to announce about the newly created Personal Composite Instrument (PCI) Coffee vs. Cocoa. The instrument was not created for advertising purposes or for giving advice to traders and investors. This is just an example among many instruments that can be created through PCI technology by any trader.
The study presents an observation of both agricultural products, and some interesting facts about coffee and cocoa may be found here. The purpose of the study was to find the interrelation and price correlation of the instruments. Through GeWorko Method one may create a new instrument only with a few clicks, find interesting price dynamics of the created instrument and trade it.
The chart presents the yearly chart for Coffee/Cocoa within the last 30 years based on their average price per kg. The correlation coefficient has been fluctuating around 1.5, and since the 2000s it has shown a tendency to increase. Both crops are grown in the same tropical climate. Moreover, coffee first appeared in Africa, and it is now one of the main agricultural crops of Latin America, which is the motherland of cocoa.
Note that recently the company has introduced PCI - the new technology of creating, analyzing and trading financial instruments, which is available on NetTradeX trading analytical platform. Through this new approach one can go beyond the available lists of instruments and create unique multiplicity, the variations of which can be limited only by imagination, in other word unlimited number of instruments can be created using GeWorko Method.
To summarize, this study is a good example of various instruments that may be created by traders, investors and analysts. GeWorko Method makes it easy to analyze price correlation of such instruments and see the price history only in seconds with a few clicks. Anyone can observe different financial instruments and find price correlations between various assets. IFC Markets will continue to create different instruments and show the interrelation between them in order to make it easy for users to do their own research and analysis.
About IFC Markets:
IFC Markets is a leading innovative financial company, providing private and corporate investors with various trading and analytical tools. The company provides its clients with Forex and CFD trading through its own-generated trading platform NetTradeX, which is available on PC, iOS, Android and Windows Mobile. The platform is available in 15 languages. The company also offers MT4 platform available on PC, Mac OS, iOS, Android, Windows Mobile and Smartphone. The main priority of the company is to provide highly competitive services, traditional and totally innovative trading and analytical solutions. Today IFC Markets is one of the best global CFD brokers in the market, supporting traders in multiple languages. http://www.ifcmarkets.com