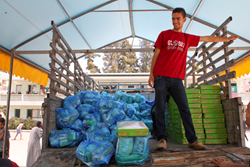 The people in Gaza are shell-shocked. They are exhausted and just want the fighting to be over.
Portland, OR (PRWEB) August 11, 2014
Tens of thousands of civilians in the Gaza Strip face acute shortages of food, water, essential household items, safe shelter and medical care, according to the global humanitarian agency Mercy Corps. During the cease-fire of August 5 to 8, Mercy Corps assessed needs in previously inaccessible areas, and repositioned humanitarian supplies closer to civilians who need them most. The largest private aid group working in Gaza, Mercy Corps has already reached more than 84,000 civilians since the start of the month-long conflict.
"The people in Gaza are shell-shocked. They are exhausted and just want the fighting to be over," says Stu Willcuts, director of Mercy Corps' Gaza humanitarian response. "We hope this second truce sticks so that we can safely meet urgent needs and begin the daunting task of rebuilding."
Mercy Corps is delivering thousands of food and hygiene kits to displaced families. The hygiene kits contain items such as soap, toothpaste and toothbrushes, laundry powder, and disposable diapers. Food parcels contain canned meat, tuna and beans, cheese, jam and dates, and can last a family an average of 10 days. With inadequate supplies of fresh water across Gaza, Mercy Corps is also setting up mobile water stations – each holding 10,000 liters of water – so that civilians will have access to safe, clean water. In addition, Mercy Corps has arranged for a team of 13 medical professionals – surgeons, general practitioners, anesthesiologists, pediatricians, nurses and a logistician – to come to Gaza this week to help meet urgent medical needs.
"We are doing everything we can to help people survive the relentless fighting," says Willcuts. "We urge the parties to the conflict to continue working towards a durable peace."
Mercy Corps has worked in Gaza and the West Bank since the 1980s, focusing on emergency response and meeting people's basic needs, as well as building long-term economic and community recovery.
To support Mercy Corps' response to the Gaza crisis, donate at http://www.mercycorps.org/donate/gaza.
About Mercy Corps
Mercy Corps is a leading global humanitarian agency saving and improving lives in the world's toughest places. http://www.mercycorps.org.