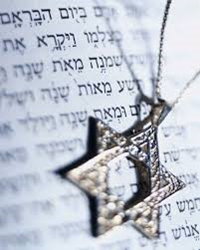 Connecting with Sim Shalom has made it possible for me to access Judaism in my own way. I will be ever grateful for the opportunity to worship weekly and learn more about being a Jew.
New York, NY (PRWEB) September 08, 2014
Sim Shalom is deeply pleased to welcome a German citizen who is newly converting to Judaism. Verena D*, soon Havilah bat Yehoyakhim v Marta, has expressed her eagerness to attend the services.
"We're thrilled that Verena will join us at Zeb's," said Rabbi Steve Blane, founder of Sim Shalom. "She's an exemplary student of the faith, and part of her research includes a stay in New York for the High Holidays and Sukkot."
A librarian in Germany, Verena began her online studies with Sim Shalom a year ago. Her conversion curriculum includes both online and in-person meetings with other students and rabbis, as well as a scholarly thesis. Having completed her thesis on Lashon Hora, Verena will soon come before the online Bet Din for the final step in her conversion.
"Jazz and its distinct kinship with Cantorial music create a singular musical niche," said Rabbi Blane. "And we believe the services will add a special dimension to Verena's experience in the City."
Zeb's Sound and Light Studio is located on the second floor at 223 W. 28th Street, between Seventh and Eighth Avenues in Manhattan. It accommodates 60 attendees. The Holiday musical ensemble will include Rabbi Blane, vocals; Jack Glottman on piano; Tal Ronen on bass; Carol Sudhalter,sax and flute; Frank Levitano on drums; Saul Ruben, guest guitarist; and other accomplished jazz musicians.
Five nights of services/performances will be offered. To attend click here:
Rosh Hashana, Wednesday evening, Sept. 24th, 7:30 p.m. Tickets: $54 per person. (Service includes melodies from Selichot).
Rosh Hashana, Thursday morning, Sept. 25th, 10:30 a.m. Tickets: $54 per person.
Kol Nidre, Friday evening, October 3rd, 7:30 p.m. Tickets: $54 per person.
Yom Kippur- Sat. Morning Oct. 4th at 10:30am – Tickets $54 pp
N'eelah- The End of Yom Kippur and Break-The-Fast with Bagels and OJ- Sat Afternoon Oct. 4th at 5pm- Tickets $54 pp
About Sim Shalom and JSLI
Sim Shalom is an interactive online Jewish Universalist synagogue which is liberal in thought and traditional in liturgy. Created in 2009 by Rabbi Steven Blane on Manhattan's Upper West Side, Sim Shalom offers a means of connecting the unconnected. Rabbi Blane leads accessible and short Kabbalt Shabbat services every Friday night using a virtual interface and additionally Sim Shalom provides online education programs, Jazz concerts, conversion and life-cycle ceremonies along with weeknight services at 7:00PM EST led by Rabbis and students of this online community.
Rabbi Blane is also the founder and director of the Jewish Spiritual Leader's Institute,
http://www.jsli.net, a second-career Rabbinical school for professionals.
Sim Shalom, a non profit 501 © (3) tax-exempt organization, nurtures a Jewish connection through its mission of innovative services, creative education and dynamic outreach to the global community. For more information visit http://www.simshalom.com or call 201-338-0165.
*Verena asked to have her last name withheld due to anti-Semitism.