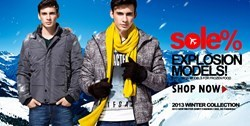 (PRWEB) August 11, 2014
Recently, Skmen.com, a popular supplier of trendy clothes, has announced its new collection of women's dresses for the international customers. In addition, it has decided to launch a special offer for these great outfits. At the moment, all people can order cheap dresses on the company's website.
The current dress promotion is a good chance for ladies who want to obtain affordable clothes. According to the company's sales representative, all the newly released items are beautiful. The deadline of the special offer is August 26, 2014. The core aim of Skmen.com is its offer more cheap products for old and new clients.
"We are pleased to unveil the new selection of fashionable dresses for women. These excellent items are specially made to expand our online market. I think it is our responsibility to help worldwide consumers to get more cheap and trendy clothes. Please note that the special offer will not be valid for a long time," the sales representative says with a big smile.
For additional information, Skmen.com has been devoted to making comfortable clothes for several years, and all its products are created by top designers. They feature popular designs, charming looks and great craftsmanship. The supplier hopes to make online shopping more convenient for all people.
About Skmen.com
Skmen.com, a reliable company founded in 2009, is one of the leading suppliers of men's and women's high quality clothes. It has more than 5000 customers from every part of the world; it hopes to help worldwide stylish ladies and gentlemen. Now, it is selling thousands of fashionable items online. For more detailed information about the company and its wonderful items, readers can visit http://www.skmen.com/product-women-s-dresses-003004.aspx.