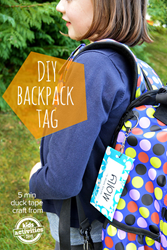 Make a cute backpack tag in 5 minutes.
Dallas, Texas (PRWEB) August 11, 2014
Backpacks need name tags. A cute backpack tag and over 100 book crafts have been released on Kids Activities Blog. Get ready for back-to-school with simple ideas from seasoned Moms.
In need of a great looking name tag for the kid's backpack? Create an easy-to-do tag out of duck tape this month. This tag even features a name card window and best of all it only takes 5 minutes to make.
Materials needed are a scrap of fabric, duck tape, acetate, a hole punch, and a key ring. Begin by cutting out a scrap of fabric the size of the name tag. Cover both sides with duck tape according to the template provided on Kids Activities Blog.
Cut out a rectangular piece of acetate the size of the window. Put tape around the edge of the acetate leaving the top edge open to slide in the tag. Punch a hole on the open end of the window.
Cut out a rectangular piece of card board and let the kids decorate this piece with their name. Then slide the cardboard inside the name tag, place the key ring inside the hole and ready is the cool looking handmade name tag.
Crafts can make children's books come alive. The over 100 book crafts are easy to do with items found around the house. One does not have to go to the store to buy expensive supplies. The many ideas include making red lobsters with red hand and foot prints, making a toilet paper roll caterpillar, creating finger puppets, and treasure maps out of cloth.
Other fun ideas include an apple craft, making acorn bees, creating a cute Lorax out of cardboard, and making a catching star activity for the bedroom.
Building a real pirate ship out of wood and building a toast bread train can easily become the kids favorite crafts. Making a terrarium to grown the kids very own secret garden and baking Gruffalo crumb cake will delight kids of all ages. The list is endless.
For detailed instructions and to get additional fun ideas, check out Kids Activities Blog this week. Come get inspired to let the kids have a blast this summer.
About Kids Activities Blog
Kids Activities Blog is a website created by two moms (who collectively have 9 children), Holly Homer and Rachel Miller. Their new book was published this spring by Page Street, 101 Kids Activities That Are the Bestest, Funnest Ever! Kids Activities Blog is an interactive website that publishes fun things to do with kids twice a day. It is an amazing resource for moms, dads, grandparents, caregivers and teachers to find kid-friendly activities that create memories and sneak learning into the fun.