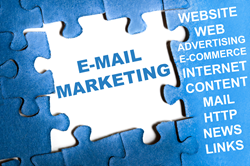 Email marketing campaigns drive business by nurturing leads organically.
(PRWEB) August 11, 2014
GetUSales, a leader in Infusionsoft DFY automated marketing campaigns, has just released an informative blog titled "What is an email marketing campaign?" The blog can be read here.
What is an email marketing campaign?
An email marketing campaign is a set of emails that are "dripped" out to a business' contacts at predetermined intervals of time using a system like Infusionsoft.
What's the content of an email marketing campaign?
The best way to reach contacts through email marketing is with educational content. When a business provides its leads with informative content they can actually use, the leads will see this as a "value-add" to dealing with that company.
The content can certainly push products, but it needs to be done very subtly. Sending ad after ad to leads will get them to click "unsubscribe" quickly. To sell a product without "selling" a product, send leads information about innovative ways to use the product, tips and tricks, FAQs, etc. As long as the majority of the content is educational, it's fine to add a discount code or a "click here to purchase" button somewhere in the email.
How does an email marketing campaign drive business?
Email marketing campaigns touch contacts over and over, putting the business' brand in front of them on a regular basis to increase brand recognition. As they see the brand more and more, they are more likely to remember it when they're ready to make a purchase.
Referrals are the lifeblood of every business. Email marketing campaigns can also automate the referral process, making it ultimately easy for satisfied customers to refer their friends. Incentives to the referrer make referring a friend that much more tempting.
How to set up an email marketing campaign
The best way to set up an email marketing campaign is to buy one that's already created. GetUSales offers Infusionsoft DFY campaigns for five industries: dentists, chiropractors, CrossFit gyms, wedding coordinators and real estate agents. These packages come with multiple email marketing campaigns packed with ready-made content that can be customized to fit any business.
For businesses outside those industries, GetUSales' sister company GetUWired can easily build custom email marketing campaigns from scratch.
Call GetUSales today at 855-834-4850 or visit http://www.GetUSales.com to see how email marketing help any business thrive.