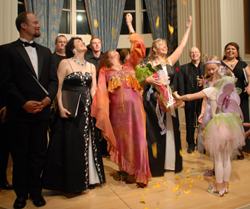 Little Rock, AR (PRWEB) August 11, 2014
It's that time of the year again! Once again, the Muses Project is getting ready for their annual opera gala. This year, The Muses Seventh Annual Opera Gala will take place at the end of Muses Opera Week at 7 p.m. Friday, Sept. 19.
The Muses Seventh Annual Opera Gala, is the culmination of a glorious week replete with high-quality musical performances. The week begins in Hot Springs Sept. 13 and 14, with the "Opera Classics" concerts, and travels to the Governor's Mansion in Little Rock on Sept. 16 for a fundraising dinner and concert honoring Governor Beebe. Educational outreach will take place at Little Rock schools on Sept. 17 and at Texarkana on Sept. 18.
The week will then end back in Hot Springs with a fantastic Opera Gala presentation at Muses Cultural Arts Center, 428 Orange St. The gala, titled "Sing to Love", will serve as a fundraiser for the Center, and will include a V.I.P. pre-show wine reception beginning at 6 p.m.
This Muses Opera Gala will be a celebration of the arts like no other. Spectacular musical surprises, including additional instrumentation, an expanded opera chorus and ballet dancers are sure to dazzle and amaze the audience. Exquisite performances by extraordinary professional singers and musicians from across the country, sharing their awe-inspiring talent in sumptuous measures, will provide a memorable and culturally-enriching experience for all.
The Muses Opera Gala patron level tickets are $150 and general support tickets are $75. Sponsorships are available. All proceeds from this event are dedicated to The Muses Cultural Arts Center's Capital Improvement Fund. For more information or to purchase tickets, please contact the Muses at 501-609-9811 or visit their website at: http://www.themusesproject.org.
Join the Muses on Sept. 19 for this musical extravaganza and take your place as a supporter of excellence in the arts in Arkansas!
About the company:
The Muses Creative Artistry Project is a 501(c)(3) non-profit arts organization dedicated to preserving classical art and music through performance and education. They believe that classical artistic education and high-quality cultural experiences through live performance are crucial to a well-rounded and healthy community. Each year, The Muses presents a series of concert events aligned with the four seasons, and performed at various regional venues. Fine art, music, and spoken word are presented at each program, representing different artistic disciplines and styles. Various seminars and workshops allow participants to experience creative renewal and deeper understanding of their own need for artistic expression and balance in their lives. This blending of fine art, classical music and creativity education can have profound effects on the participants and in the community at large.