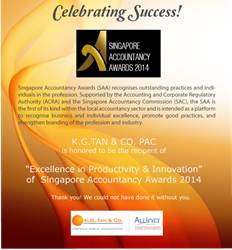 Singapore (PRWEB UK) 12 August 2014
K.G.Tan & Co. Pac are honoured to be the recipient of the award "Excellence in Productivity & Innovation" in the SAA Awards.
The Singapore Accountancy Awards (SAA) recognises outstanding practices and individuals in the profession. Supported by the Accounting and Corporate Regulatory Authority (ACRA) and the Singapore Accountancy Commission (SAC), the SAA is the first of its kind within the local accountancy sector and is intended as a platform to recognise business and individual excellence, promote good practices and strengthen branding of the profession and industry.
About K.G.Tan & Co. PAC
K.G. Tan & Co. PAC is a Certified Public Accounting (CPA) firm with a team of dedicated and competent accounting professionals. We specialise in audit, tax, accounting, advisory and other corporate services.
http://portal.kgtan.com/