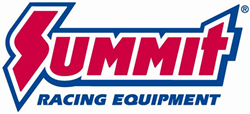 Tallmadge, OH (PRWEB) August 12, 2014
Centric Parts is the parent company of high performance brake manufacturer StopTech (also available at Summit Racing). That means a lot of that StopTech know-how is used Centric's line of OEM replacement brake rotors, pads, calipers, and other parts. That means you get maximum stopping power for your domestic or import vehicle.
Summit Racing carries these Centric Parts brake system components:
POSI-Quiet Semi-Metallic Brake Pads
The Posi-Quiet extended wear brake pads are made with a positive molding process that eliminates impurities in the friction material. That helps the pads wear more evenly and provide more consistent, fade-free performance. Posi Quiet pads have either precision-cut or shaved backing plates and mechanically attached shims to ensure proper fitment in the caliper. That virtually eliminates noise associated with pad vibration.
Centric even uses a "scorching" process that forces any impurities out of the friction material and also burnishes the pads to greatly accelerate the break-in process.
Other features include:

Stable friction material performance across a wide temperature range
Low dust with excellent rotor and pad life
Hardware included
Premium Brake Rotors
Centric Premium Rotors have all sorts of high-quality features:

Double disc grinding helps eliminate run out for near-perfect disc thickness. The process leaves a non-directional finish on the friction surface area for more effective pad-rotor break in. This finish also provides quieter and smoother stops.
Rotors are fully machined, including the hats. This extra process provides better rotor balance and creates a cleaner look. Centric Premium Rotors are also inspected for balance and mill-corrected to a tolerance of less than 2 oz. per inch.
Center-split core castings provide proper heat transfer and thermal efficiency for superior braking power and safety. The OEM style vane design ensures the rotor will function just like the original part.
The black electrocoated finish is designed to withstand 400 hours of salt water exposure without rusting. The phosphate finishes used by other manufacturers provide only minimal protection from heat and moisture, often rusting soon after installation.
Centric Premium Brake Rotors are also available with a cryogenic treatment to greatly extend rotor service life, and in a High-Carbon version made with molybdenum and chromium alloys to resist rotor cracking during high performance use or repeat stop situations. They also reduce brake squeal when used with high-friction brake pads.
Semi-Loaded Brake Calipers
Just add a set of Centric pads to these re-manufactured calipers and you're ready to stop. Reusable components are cleaned and refinished. The caliper cores are heated to 500 degrees to remove rust and scale, then tumble-blasted before treatment with an anti-corrosion finish. Threaded ports and holes have the threads chased and all bores are brushed and cleaned. Then all-new pistons, seals, and boots are installed to the original manufacturer's specifications.
Summit Racing also carries Centric Parts brake drums, C-Tek rotors, wheel cylinders, hose, and hardware kits, plus wheel hub assemblies and caliper rebuild kits.
SEE ALL CENTRIC PARTS BRAKE COMPONENTS AT SUMMIT RACING
Summit Racing Equipment
http://www.SummitRacing.com
1-800-230-3030