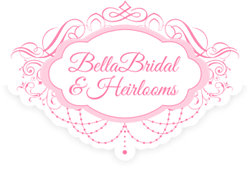 We look forward to these events, and to meeting brides-to-be in person and answering any questions they may have.
Oyster Bay, NY (PRWEB) August 12, 2014
Bella Bridal and Heirlooms, a new business offering one-stop shopping for many of the items needed for the big day, will be exhibiting its line of high-quality bridal items at the Long Island Bridal Expo.
The Expo, taking place on Tuesday, August 26, and again on Tuesday, September 23, at the Huntington Hilton, 598 Broad Hollow Road in Melville, NY, gives brides-to-be a chance to see multiple companies and services in one location.
Bella Bridal and Heirlooms offers many unique items from hair accessories and bridal jewelry, to wedding veils, gifts for bridesmaids and groomsmen, ceremony accessories and decorations to match any wedding reception theme. Brides to be can view a full selection of wedding favors and other items, as well as read the site's blog, which features items of the week and advice on planning the ultimate wedding.
"We look forward to these events, and to meeting brides-to-be in person and answering any questions they may have," notes Grace Caiazzo, owner and consultant. "It's a great opportunity for them to see our collection. Many of our items are handmade, and we are happy to offer assistance to brides who need help selecting accessories, favors, and more."
"Brides will have a chance to try on headpieces, veils, and jewelry, and to view some wonderful, personalized bridal party gifts," continues Caiazzo. "One lucky bride will win a special piece of jewelry to wear on her big day."
Those outside the Long Island area can visit the website to shop, and may call or email for personalized assistance with their selections. For a limited time, the site is offering free shipping within the continental U.S.
Brides planning weddings, and others planning occasions such as anniversary or special birthday celebrations, can visit http://www.bellabridalandheirlooms.com or visit the company's Facebook page to learn more.
About Us
Bella Bridal & Heirlooms is dedicated to helping brides-to-be and others marking a special occasion, to make their celebration memorable. The company has carefully selected items it believes will complement any ceremony or party. Bella Bridal & Heirlooms is a family-owned business, committed to providing the highest quality wedding and special occasion accessories, heirlooms and personalized gifts, to help add elegance to any wedding, anniversary or other celebration. The products offered reflect both the latest trends and the most classic and time-honored traditions. The company offers personalized attention to its customers and treats their occasions as if they were their own. For more information or to view their extensive collection of products, please visit http://www.Bellabridalandheirlooms.com.