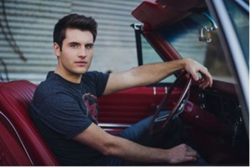 There's nothing more precious than a human life.
Atlanta, Ga. (PRWEB) August 12, 2014
The 8 DAYS movement, dedicated to ending human trafficking, will host events in eight major US cities as fundraisers, political rallies, screenings and concerts that benefit local sex trafficking organizations. This unconventional and unique approach to filmmaking pours ticket sales directly into local sex trafficking organizations. These organizations will use these funds to rescue and rehabilitate victims as well as build and expand safe homes. Brandon Chase will be a featured musical guest at these events.
"Becoming aware of the fact that human trafficking is happening all around us is the first step towards making a difference and becoming vocal about the crime starts to shake things up," says Brandon Chase. "Taking action is what results in the freedom of the victims and the captivity of the perpetrators. I want to see trafficking eradicated and real justice served, that's why I'm taking action."
The Voice Team Blake Season 5 contestant, AMTC graduate and rising country music star Brandon Chase has a heart for missions and especially those captive in modern day slavery. Human trafficking is getting more ink these days but it's still somewhat a silent epidemic that happens all over the world, and even here in the United States. Chase is broken hearted over this devastating issue and has been passionate about stopping this horrific crime even before it was a "hot topic" issue. In 2011, Chase wrote a ballad, "Arise," to encourages victims to trust in the redemption and hope that is available to them.
"Words can't even begin to explain how awful this crime truly is," says Chase. "There's nothing more precious than a human life and it disgusts me to know that there are people out there that think they have the right to buy and sell a priceless soul as if they were just some inanimate object."
His heart and song earned him a role in the upcoming feature film 8 DAYS. Produced by Dallas based film company After Eden Pictures and SHARE, a 501(c) 3 non-profit. This film is inspired by actual events to raise awareness and funds for anti-trafficking organizations and safe homes across the country.
Premiere Info:
Date City
September 9 Los Angeles, CA
September 11 Seattle, WA
September 16 New York City, NY
September 18 Washington, DC
September 23 Atlanta, GA
September 25 Nashville, TN
September 30 Chicago, IL
October 2 Dallas, TX
In addition to the premieres, the film will be available to over 500 human trafficking organizations for showings across the country for eight days beginning on October 3rd.
Brandon's song ARISE is currently available on iTUNES and all the proceeds from his song go to fight trafficking victims.
For more information and ways to get involved in this movement visit http://www.8daysfilm.org, http://www.findamber.com, http://www.facebook.com/8daysfilm, http://www.sharetogethernow.org or on Twitter and Instagram @8daysfilm.
To learn more about AMTC, where Brandon got his start, please visit http://www.amtcworld.org.