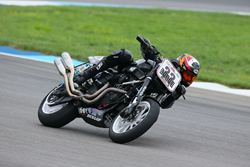 I just showed up a little late to the party.
Plymouth,WI (PRWEB) August 11, 2014
After a start in the 7th place grid spot during his participation in the AMA Pro Harley Davidson series Race 1 at Indianapolis this weekend, Kyle Wyman meandered his way into a 3rd place podium finish. The surprise finish seemed to come out of nowhere as Wyman was consistently held back into the 5th position until he made his way towards the front from a two-second gap to catch up with the leading group with one lap remaining.
Wyman spoke about the competition, "I just showed up a little late to the party. I didn't really get a bad start, but I was on the third row and got caught up with a couple of guys. By the time I was free, I had lost some ground. I knew we had a little better tire life on our bike with the Nitron shocks, so that was the key for me. I knew if I stayed consistent with fast laps and didn't make any mistakes, the tire life would be in my favor. The last laps, those guys slowed down and I stayed the same. It allowed me to make two passes on the last lap. I would have liked to have seen what I could have done if I had been up there from the get-go."
Wyman also spoke about his Millennium Technologies-sponsored XR1200 motorcycle used for his participation in the Harley Davidson series events, "I've become more and more comfortable with my Millennium Technologies XR1200 and how it reacts on this new Indianapolis circuit," Wyman added.
Keep up with Kyle's racing events on his Facebook page: http://www.facebook.com/kylewymanfans.
To get the same performance services and parts as Kyle for your motorcycle or powersports vehicle, go to http://www.mt-llc.com to view Millennium Technologies products and services.