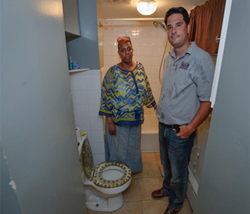 Massapequa, NY (PRWEB) August 13, 2014
Wolf Disaster Services, a Long Island-based provider of disaster recovery services such as water damage repair, fire damage and mold remediation to residential clients throughout Long Island, Brooklyn, Queens and metro-New York City areas, was recently featured in a June 25, 2014 story on the New York Daily News website regarding their work to aid a Queens homeowner in need.
While reading the New York Daily News website on June 24, 2014, Wolf Disaster Services owner Rich Murray had a flash back to the events that spurred him to found his company. Queens Village resident Nicole Johnson was one of many families in the neighborhood who petitioned New York City to do something about the flooding they experienced in their basements during torrential rainstorms. The Department of Environmental Protection completed the project in April that was supposed to ease sidewalk flooding issues. However, what happened next was completely unexpected.
Three times since April, the Johnson family home experienced flooding of their basement apartment from sewage backing up through their plumbing, spurting out of the tub and other fixtures. The combination of property damage, health risks and insurance payments had Ms. Johnson and her family at wits end waiting for the city to help. As Rich Murray read this story he flashed back to the issues that his family experience in the aftermath of SuperStory Sandy and he knew he had to help. Murray immediately reached out to the Johnson family to offer his services free of charge. Arriving on the scene the day after the story ran on the Daily News website, Murray and his team got to work cleaning the apartment, removing all of the waste and water and taking steps to assure that any health risks were mitigated.
"As I read the story my heart went out to the Johnson family as I remembered how my family felt," said Murray. "I knew I had to help and I also knew that with all they had gone through the last thing they needed to worry about was the cost so I simply did what was necessary and was happy to do so for no charge." The work that Murray and his team performed would normally have cost about $3,000 but the Wolf Disaster Services Team could not accept any payment. They knew it was the right thing to do with the circumstances as they were
Wolf Disaster Services offers recovery services to both residential and commercial clients throughout the Long Island, Brooklyn, Queens can be reached 24/7/365 for emergency service calls at 516-590-5063 or online at http://www.wolfdisasterservices.com.