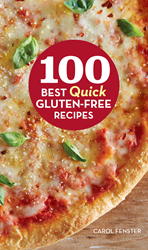 While this new ruling means greater certainty, says Fenster, it is important to remember that gluten-free labeling is not mandatory but manufacturers who use the label must meet the FDA standards.
Denver, CO (PRWEB) August 14, 2014
Effective August 5, 2014, food manufacturers must comply with the Food and Drug Administration's Gluten-Free Food Labeling Final Rule by assuring that packaged food products labeled as "gluten-free" contain less than 20 parts per million (ppm) of gluten. Carol Fenster, a gluten-free cooking expert and author of the new book 100 Best Quick Gluten-Free Recipes, says this ruling makes it easier for busy home cooks to confidently buy time-saving ingredients.
Fenster explains, "This final ruling is part of the Food Allergen Labeling and Consumer Protection Act (FALCPA) of 2004, which required food packaging to clearly list whether the product contains the top eight food allergens. In addition, the act also directed the Food and Drug Administration (FDA) to define the term 'gluten-free' but it took a few more years of research to determine that definition."
"This new ruling from the FDA is especially helpful to busy home cooks who want to use store-bought foods made from multiple ingredients—such as sauces, seasonings, marinades, and salad dressings—in order to shave precious time from meal preparation," says Fenster, who also offers a weekly gluten-free e-cookbook at GfreeCuisine.
She explains, "In the past—to assure safety—gluten-free people had to prepare most of their own meals at home from plain meats, dairy, vegetables, non-gluten grains, and fruits. Any seasonings, dressings, marinades, or sauces had to be made at home because store-bought versions contain multiple ingredients, some of which could possibly contain gluten."
"Of course," she adds, "these items add flavor, texture, and color to an otherwise stark flavorless entrée (such as a plain chicken breast seasoned only with salt and pepper) so this new rule allows cooks to buy gluten-free ingredients with confidence and save time in the kitchen by not having to make everything from scratch."
Specifically how does this new ruling speed up meal preparation? "One of the most common complaints from gluten-free home cooks is that they don't have much time," says Fenster. "So, they welcome any time-saving shortcuts such as store-bought foods, and the certainty of the gluten-free label makes it much quicker and easier to choose them in stores," she adds.
For example, Fenster says home cooks can buy clearly-labeled gluten-free salad dressing rather than making it at home. In this case, the culprit can be wheat-laden soy sauce which manufacturers can replace with gluten-free soy sauce—without changing the flavor or appearance of the dressing. Or, home cooks can know if they are buying a barbecue sauce that is not thickened with wheat flour, as some sauces are. Store-bought gluten-free cookies can be made into a crumb crust for pies, rather than first baking the cookies at home from scratch with gluten-free flours. In each case, home cooks can now have confidence that the gluten-free label complies with the FDA's definition of less than 20 ppm.
The uncertainty of not knowing the level of gluten in any given food is daunting for the 3 million Americans with an autoimmune condition known as celiac disease, says Fenster, because of the damage that gluten—a protein in wheat and related grains—inflicts on their bodies. While this new ruling means greater certainty, says Fenster, it is important to remember that gluten-free labeling is not mandatory but manufacturers who use the label must meet the FDA standards. "That is why it is so important to read labels on everything," she adds, "and keep reading until you find a gluten-free brand," she suggest. The new ruling does not apply to meats, poultry, and most egg products, nor does it apply to restaurants.
Finally, Fenster knows that new laws generate many questions. To help consumers understand the new ruling and what it does and does not cover, the Gluten Intolerance Group of North America, a national association, provides a dietitian's perspective that provides answers to these questions.