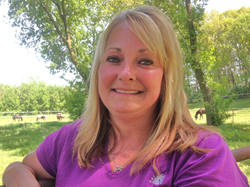 I look forward to supporting the EAGALA leadership, membership, and organization to achieve the vision of access to EAGALA Model services to every person around the world.
Santaquin, Utah (PRWEB) August 12, 2014
Lynn Thomas, LCSW, founder and Executive Director of EAGALA, has announced that Brenda Hunter, M.A., LCPC and EAGALA Advanced Certified Mental Health practitioner, has assumed the newly created position of Clinical Director. Hunter will be working hand in hand with Program Director Mickey DiGiacomo, who currently oversees certification trainings, 90 networking groups globally, EAGALA's mentoring program, business consulting workshops, and conference facilitation.
In her new role, Hunter will focus primarily on supporting member programs, benefits, and resources. She will be directly involved in working with the member committees -- Research, Ethics, University, Continuing Education, and Public Policy -- to maximize their potential and impact. She also will be helping in the development, management, and oversight of strategic partnerships to create national/global replicable programming and data collection, thus solidifying and augmenting additional evidence in support of the efficacy of the EAGALA Model. As a mental health professional, Hunter will be an additional resource to address the many questions that come into the association regarding standards of the mental health professional and the mental health focus of the EAGALA Model.
Hunter has been a certified member since 2003. She began her EAGALA career at Reins of Change, Inc., working as the mental health professional in providing individual, group, and family EAGALA Model EAP/EAL services to clientele of all ages and with a variety of mental health challenges. She obtained her EAGALA Advanced Certification in 2007. Hunter was one of the founding members of EAGALA's Ethics Committee and was the Chair of this committee for over five years. In 2008, Hunter became a trainer and mentor with EAGALA and has conducted hundreds of trainings globally. Hunter also has presented at numerous conferences on EAGALA-related topics.
Hunter's non-EAGALA clinical professional experience is diverse and expansive: she began her post graduate work in 1995, focusing for over six years on brain injury rehabilitation and providing neuropsychological assessment and treatment. She then spent over 7 years with a nonprofit organization where she began as a residential treatment therapist and advanced to becoming the Clinical Supervisor of the Community Counseling Program supervising therapists and case managers in providing mental health services to individuals, couples, and families. Hunter additionally worked for five years with Children's Hospital of Wisconsin as a Supervisor and advanced to become Manager of five community service prevention programs that provided clinical and case management services to families in need in the greater Madison area. Hunter earned her Masters of Arts in Clinical Psychology at the University of Arkansas. She is a Licensed Clinical Professional Counselor in the state of Illinois and a Licensed Professional Counselor in the state of Wisconsin.
"I am very thankful and honored to have been selected to serve in this role and help EAGALA and its membership continue to grow and flourish. I have been grateful for the opportunities to serve the organization in many different capacities. Being able to apply the skills and knowledge garnered during my career and integrate my passion with full-time employment is truly my dream job. I look forward to supporting the EAGALA leadership, membership, and organization to achieve the vision of access to EAGALA Model services to every person around the world," stated Hunter.
Thomas added, "Brenda has been an invaluable asset to our organization and membership for many years. Her experience both inside and outside EAGALA brings an ideal knowledge-base needed for this role in order to support EAGALA in our next stages of growth. We are very excited to have her come on board."
Why EAGALA?
EAGALA is a nonprofit 501(c)3 organization developed to address the need for resources, education and professionalism in the fields of Equine Assisted Psychotherapy and Equine Assisted Learning. The association has set the standard for professional excellence in how horses and humans work together to improve the quality of life and mental health of individuals, families and groups worldwide. In partnership with the Thoroughbred Retirement Foundation (TRF), EAGALA provides an opportunity for a second career for horses retired from racing. The organization, which formed EAGALA Military Services in 2013 to address the unique needs of veterans, active duty and their families, has more than 4,500 members in 49 countries and continues to grow.
For more information on EAGALA go to http://www.eagala.org.