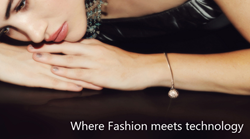 Larceny-theft occurs every five seconds in the US as reported by the FBI.
Beverly Hills, CA (PRWEB) August 12, 2014
Heralding a new era in personal safety, Diane Jenkins and Michael Markoe, co-founders of Charm Alarm LLC, are developing game-changing personal anti-theft protection. Wearable technology Charm Alarm is fashionable jewelry designed to deter thieves.
"Larceny-theft occurs every five seconds in the US as reported by the FBI," states Diane Jenkins, who has been a victim herself of this violating act. "The experience of having my purse stolen was devastating. I was shocked that I was caught off guard. The feeling of victimization continued long after the crime, as I spent weeks replacing my credit cards and had to obtain a new driver's license. After that incident, I was determined to create a solution to empower myself and others to minimize this type of crime." Thus, the genesis of Charm Alarm Wearable Tech: Where fashion keeps you aware of your belongings.
Charm Alarm includes a fashionable piece of jewelry and a smartcard that doubles as a personal security device. Charm Alarm attaches to bracelets designed by popular jewelry brands so that it blends in with the users own jewelry collection. This small charm, which can be worn by men or women, also attaches to necklaces, or key rings. The charm quickly alerts you to any attempts of wallet, backpack, or purse snatching, while the Charm Alarm smartcard, which goes in your wallet, generates an alarm to thwart would-be thieves.
"What sets us apart from other personal security devices is that Charm Alarm does not require a smartphone to work," states Diane Jenkins. "And that's monumental, considering most women keep their smartphone inside their purse." Co-founder Mike Markoe adds, "When someone walks off with your purse, seconds count. Charm Alarm wearable tech immediately alerts you when your valuables are moving away from you. By the time you find a computer to track your cell phone it may be too late, but with Charm Alarm you are in control in real-time."
The fashionable tech charm anti-theft device communicates with a credit-card-sized smartcard, that, when separated by a certain distance sets off an alarm drawing attention to a would-be thief. This product is proven to be an effective deterrent to crime and is even useful as a warning device to the person who may leave a wallet or purse unattended.
Currently, Charm Alarm, LLC has a working prototype and is miniaturizing it to its final form factor. The Charm Alarm, LLC team has launched a website and is finishing its final phase with the goal of completing production by the end of the year.
Charm Alarm LLC is located at 433 N. Camden Drive, Suite 600, Beverly Hills, CA 90210; phone: 424-278-4488.