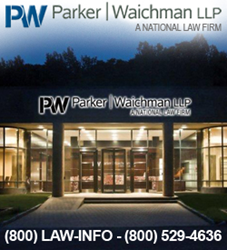 "We are pleased to see settlement of claims involving transvaginal mesh devices and hope that these women will receive sufficient compensation given the very serious and long-term nature of the alleged related injuries," said Gary Falkowitz, Esq.
Port Washington, New York (PRWEB) August 11, 2014
Parker Waichman LLP, a national law firm long dedicated to protecting the rights of victims injured by defective medical devices reports that, according to a June 30, 2014 Securities Exchange Commission(SEC) filing, medical device maker, C.R. Bard, has agreed to settle more than 500 of the Avaulta transvaginal mesh lawsuits pending against the firm; the settlement amount has not been disclosed.
C.R. Bard faces thousands of lawsuits nationwide, with most consolidated as part of a federal multidistrict litigation (MDL) that has been centralized before U.S. District Judge Joseph Goodwin in the Southern District of West Virginia. There are nearly 60,000 federally filed MDLs involving transvaginal mesh, including more than 9,000 filed against C.R. Bard and which have been brought against an array of transvaginal device makers. The cases are:

In re: American Medical Systems, Inc., Pelvic Repair Systems Products Liability Litigation (MDL No. 2325)
In re: Boston Scientific Corp., Pelvic Repair System Products Liability Litigation (MDL No. 2326)
In re: Coloplast Corp. Pelvic Support System Products Liability Litigation (MDL No. 2387)
In re Cook Medical, Inc., Pelvic Repair System Products Liability Litigation (MDL No. 2440)
In re: C.R. Bard Inc. Pelvic Repair System Products Liability Litigation (MDL No. 2187)
In re: Ethicon, Inc., Pelvic Repair System Products Liability Litigation (MDL No. 2327)
In re: Neomedic Pelvic Repair System Products Liability Litigation (MDL 2511)
The lawsuits brought against C.R. Bard over its Avaulta mesh, as well as actions brought against the other transvaginal mesh makers, all similarly allege significant injuries following surgery utilizing vaginal mesh to repair pelvic organ prolapse (POP) or stress urinary incontinence (SUI). Plaintiffs allege that the devices are defective and provide an unnecessary risk of injury, according to Parker Waichman LLP, which has filed a number of lawsuits in the various MDLs being overseen by Judge Goodwin, including against Johnson & Johnson, the parent company of Ethicon; AMS; and Boston Scientific.
According to a January 5, 2012 report by The Wall Street Journal, the U.S. Food and Drug Administration (FDA) has ordered C.R. Bard Inc., and 32 other vaginal implant device makers to review the rates of organ damage and other complications associated with these implants, following mounting lawsuits brought over the devices.
The devices are typically woven through incisions made in the vagina and are meant to strengthen weakened pelvic muscles, noted Bloomberg Businessweek in an April 4, 2013 report. In 2010 alone, more than 70,000 such devices were implanted in women in the United States.
The FDA also reported on July 13, 2011, that the most common complications associated with transvaginal mesh may include mesh erosion through the vagina (also called exposure, extrusion, or protrusion); pain; infection; bleeding; pain during sexual intercourse (dyspareunia); organ perforation; and urinary problems. The FDA indicated that complications linked to transvaginal mesh implants are "not rare" and warned that use of such devices may actually be more harmful when compared to alternative methods for treating POP.
"We are pleased to see settlement of claims involving transvaginal mesh devices and hope that these women will receive sufficient compensation given the very serious and long-term nature of the alleged related injuries," said Gary Falkowitz, Managing Attorney at Parker Waichman LLP. "We represent many women who have filed lawsuits over alleged injuries associated with the transvaginal mesh and continue to provide free legal advice for anyone who seeks more information about their rights."
Parker Waichman LLP continues to offer free lawsuit consultations to victims of transvaginal mesh, pelvic mesh, and vaginal implant injuries. If you or a loved one experienced complications following mesh-related surgery for pelvic organ prolapse (POP) or stress urinary incontinence (SUI), please visit the firm's transvaginal mesh injury page at yourlawyer.com. Free case evaluations are also available by calling 1-800-LAW-INFO (1-800-529-4636). (http://www.yourlawyer.com/topics/overview/transvaginal-mesh-vaginal-mesh-pelvic-mesh-lawsuit-lawyer-attorney)