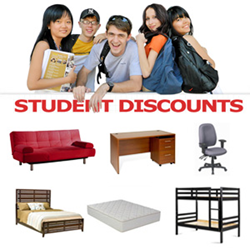 10% Discount on all Furniture of $1000 or more
New York, NY - August 12, 2014 (PRWEB) August 13, 2014
FurnitureNYC.net launches a Back to School Sale Event to offer their customers a way to save money on home and office furniture. To start the savings, the popular NYC furniture store now offers $75 off on orders of $1000 or more.
The sale event is offered for a limited time. Hurry up to find furniture for new school year! A 10% discount on any home office furniture, any platform bed or convertible sofa bed from the leading brand Innovation USA is offered.
Serving customers in the heart of New York City since 1991, FurnitureNYC.net is a proven resource for furniture of all types. The store offers their customers more than 24,000 products to choose from to satisfy even the exigent tastes. Carlos Montana, Marketing Communications Manager for FurnitureNYC.net said of the sale event,
"From tuition, to new clothes, to supplies the back to school list can go on and on. For parents furnishing a dorm room or refurnishing a room in the house with a home office desk or platform bed, we're there to offer some help."
The Back to School Sale Event offers convertible sofa beds that range in price and style. From sleek to utilitarian - the choices are vast. The site offers platform bed options with roomy drawers for optimum storage to help furnish a small dorm. Home office desks and desk sets with bookcases and cabinets are available as well as TV stands for the well-dressed room.
About FurnitureNYC.net:
FurnitureNYC.net is a furnishings store that not only serves the residents of New York City, New York but extends their offering nationwide online. To date, the store has 24,000 online products to choose from. FurnitureNYC also has a showroom in the heart of New York City to better serve their local customer base. Founded in 1991 the store provides furniture and accessory choices that range from low-cost products to competitively-priced luxurious goods and niche items.