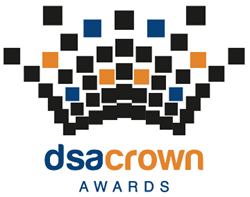 The single most important part of any digital experience is the content.
Louisville, KY (PRWEB) August 12, 2014
The Digital Screenmedia Association (DSA) is now accepting entries for the fourth annual DSA Crown Awards that recognizes outstanding and best-in-class content across digital signage, self-service and interactive kiosks, and mobile technology.
Companies may enter in one or more of the following categories:
Point of Sale (shoppers - such as retail, restaurant menu boards, etc.)
Point of Transit (people on the go - such as airports, digital billboards, etc.)
Point of Wait (dwell time - such waiting for a table, waiting in line, waiting room, etc.)
The cost to enter is $195 per entry for DSA members and $230 for non-members. All entries will require a video submission of the content and a photo of the content being displayed in the venue. The content must have been aired between November 1, 2013 and September 1, 2014 to be eligible.
Entrants must describe the venue, objectives, targeted demographics and results and select one of two budget categories — less than $10,000 or $10,000 or more.
"The single most important part of any digital experience is the content. Our annual awards ceremony will recognize the best content we have seen deployed in the past year," said Paul Flanigan, Executive Director of the DSA. "The ceremony takes place during the DSA's Party at the Hard Rock, and is a terrific opportunity to recognize outstanding content during a fantastic evening after the first day of Customer Engagement World."
The deadline to enter is September 15, 2014, and winners of the 2014 DSA Crown Awards will be announced during the DSA Party at the Hard Rock at the Hard Rock Cafe on November 5, 2014 in Times Square in New York City.
About the Digital Screenmedia Association (DSA)
With 700 members, the DSA is an independent, non-profit association, whose mission is to advance the growth and excellence of the global digital signage, interactive kiosk, and mobile community through advocacy, education and networking. Members include users of digital screenmedia in all vertical markets; including retail, hospitality, and healthcare; as well as manufacturers, resellers, and distributors of hardware and software, network operators, integrators, advertising agencies, consultants, analysts, publishers, trade show organizers, and service companies.