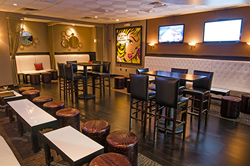 Long Branch, NJ (PRWEB) August 12, 2014
Slip on a pair of high heels and gather the girls to join the crowd at Indulge Lounge & Food Bar in Long Branch, New Jersey. The boardwalk restaurant is conveniently located in Pier Village with direct access to the beach, dining and shopping. Unwind during their casual happy hour or forget about the workday during their late night hours at one of the Jersey Shore's best summertime lounges.
Open all year round, guests can enjoy the extensive drink menu including creative martinis, cocktails, and wines as well as an array of food and snack options. Operating owner, Joseph Squillaro encourages guests to come for dinner and stay all night long. "In the beginning people thought this was just a lounge that they could come and get drinks at, but now people know that they can have dinner here too," said Squillaro. Proving to be most popular during the summer months, the bar is busiest on the weekends. "As long as the weather is good, our business is good," said Squillaro. "When the weather is bad, our business slows down a bit."
Since opening its doors in September of 2012, Indulge Lounge & Food Bar has maintained an image of being a fun and sophisticated place to relax and enjoy a late night drink with friends. This includes a dress code that is heavily enforced on the weekends. "We try to stay trendy," said Squillaro. "If someone comes in wearing a backwards baseball hat, we will ask him to leave it in the car." During quieter business hours, guests are free to dress comfortable and casual. "If we're really busy we try to stick to the dress code," said Squillaro. "During the week people come in wearing bathing suits and flip flops and we never kick them out."
Indulge's daily happy hour and weekly events attract a big crowd as well. Guests can stop by for happy hour Mondays through Thursdays from 3:30 pm to 8:00 pm; Fridays and Saturdays from 3:00 pm to 8:00 pm; Sundays from 12:00 pm to close. Happy hour prices continue all night on Thursdays on select menu items. On Wednesday nights experience live acoustic in the lounge from 8:00 pm to 11:00 pm. Kick off the weekend on Friday night with Fridays After Dark featuring DJ Steve Sapz from 9:00 pm until closing and Saturday DJ Manuel brings the dance party! The fun continues on Sunday with all day happy hour and Industry Night from 9:00 pm to closing, offering half price off everything for anyone who works for tips and shows their employee ID. "In this industry, everyone's Friday night is Sunday," said Squillaro. "Sundays are better than Fridays a lot of times."
Indulge Lounge & Food Bar is open from 3:30 pm to 1:30 am Sunday through Wednesday. Thursday through Saturday closing is at 2:00 am. Doors open at 12:00 pm on weekends. Party space is also available with at least one week notice. The lounge can accommodate up to 75 people. The restaurant is available for rent for parties of 100 guests or more. To book an event or special occasion, view their website http://www.indulgeloungenj.com/ or call 732.963.9352.
About Bielat Santore & Company
Bielat Santore & Company is an established commercial real estate firm. The company's expertise lies chiefly within the restaurant and hospitality industry, specializing in the sale of restaurants and other food and beverage real estate businesses. Since 1978, the principals of Bielat Santore & Company, Barry Bielat and Richard Santore, have sold more restaurants and similar type properties in New Jersey than any other real estate company. Furthermore, the firm has secured in excess of $500,000,000 in financing to facilitate these transactions. Visit the company's website, http://www.123bsc.com for the latest in new listings, property searches, available land, market data, financing trends, RSS feeds, press releases and more.