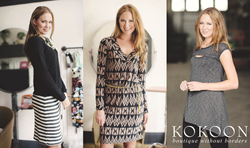 "Here is a woman designer who gets it."
Minneapolis, MN (PRWEB) August 12, 2014
On August 15, 2014, KOKOON boutique without borders - the Minneapolis-based fashion line - will launch their Fall 2014 Collection.
In their 26th year of business, KOKOON is a best kept secret amongst direct sales gurus and fashionistas alike. Focusing on delivering high-quality, limited edition fashion direct to their clients, KOKOON is proudly Made in America and created by its founder/designer, Laine Sou Weinberg.
KOKOON differentiates themselves from other direct sales companies by bringing their 'boutique without borders' concept into women's homes without any of the trappings traditionally associated with home party business models. By offering an ever-changing style assortment, doing away with MLM structuring, product presentations and recruiting tactics, KOKOON's Sales Representatives are able to offer a fresh shopping experience based solely on the merits of an excellent product and service, what they describe as Modern Trunk Shows for Modern Women.
Ms. Weinberg has created the highly anticipated Fall 2014 Collection. This season balances femininity with casual sportiness and features a mix of textures, modest yet exciting details, and like always, a dedication to perfection in fitting women's bodies. Prices are very accessible with items ranging from about $60 - $180. Known for cozy knits and vibrant prints, KOKOON's fall collection features stand out items such as a reversible faux fur sweatshirt in a 60's influenced cut, a chiffon and jersey incarnation of a tuxedo cardigan, and a dramatic sweater knit dress with plunge back and seaming details. Weinberg prides herself on designing unique styles that meet the needs of women living a busy, modern lifestyle.
The new collection will be available to view online and to purchase through Sales Representatives beginning August 15th, 2014 at http://www.kokoon.net.
KOKOON got its start in the fashion industry 26 years ago, selling to many major retailers and catalogs such as Nordstrom, Saks Fifth Avenue, Macy's and hundreds of boutiques. Today, KOKOON markets directly to women through our network of independent sales representatives and hostesses. We strive to create an enhanced shopping experience...much like stepping into your favorite boutique, only better, by offering limited edition designs all produced in the USA. KOKOON Representatives combine style and substance to create a flexible fashion career by working with clients either one-on-one or through private pop-up boutiques ~ our version of a modern home trunk show.