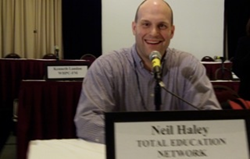 Neil Haley said, 'I accept the Challenge and I will walk around the block for 2 miles a day, and take ViSalus product and stretch daily.'
Pittsburgh, PA (PRWEB) August 14, 2014
Vi Millionaire and 5 Star Ambassador GJ Reynolds host of the Simply G Radio show interviewed Neil Haley to find out about his health concerns and why he is accepting the Project 10 Challenge.
Neil Haley is on the board of Mission G; he is the CEO of Total Tutor, and Vice President of Media for Simply G. He owns and operates the Total Radio Network.
Neil Haley discussed his health aliments. "I hurt my back 16 years ago from a wrestling injury. My siatic is hurting because two weeks ago I re-aggravatedit. I picked out a leather chair, started using it and apparently how it was supporting me caused my back to be aggravated once again. I am now on pain meds as we speak. My back is so painful, I am hardly able to sleep or sit down."
GJ Reynolds asked, "Neil are you using the great ViSalus products we have?" Neil said, "No."
GJ then asked if Neil was working out and how many pounds he wants to lose. Neil said, "I need to lose 15 pounds." GJ responded, "I challenge you to lose the 15 pounds, 10 pounds at a time on the Project 10 Challenge. Do you accept the challenge to start working out each day, using the ViSalus products and being on the Project 10 Challenge and helping feed a child in need? You can shoot an 'I want it' video, lose ten pounds and shoot an 'I lost it' video and enter to win a $1000 dollars."
Neil accepted the challenge during the interview, and said, "I accept the Challenge and I will walk around the block for 2 miles a day, and use the ViSalus products and stretch daily."
GJ shared, "I am excited to see Neil's transformation on the Project 10 Challenge! He has the drive and the reasons why to complete the challenge. His family is counting on him and this is always a big motivator. Besides I will be giving him a hard time along the way. Stay tuned for Neil's upcoming Project 10 Challenge results."
You can listen to this radio interview by going to http://simplyg.com/media/simplyg-radio/.