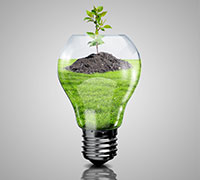 (PRWEB) August 13, 2014
If you're looking for ways to save extra money this summer and enjoy your vacation without financial stress, look no further than your own home; even your own bedroom.
Saving money at home on quick tasks like opening your blinds or turning off your lights can make your bank account fuller and the environment greener.
It's simple – being energy efficient means a less toxic environment and more money in your pocket. Some ways to start saving can be a one-time investment such as installing solar panels or insulating your home, while others are more routine like flipping your light switch off when leaving the room.
These rules are not intended to be followed every day and all the time; rather, they are guidelines. Start with one simple change today and begin saving money, energy, and mother nature.
Here are 5 tips to increase energy efficiency:
1) Solar Panels/ Green Energy:
Every hour the sun beams onto Earth more than enough energy to satisfy global energy needs for an entire year. Solar energy is lauded as an inexhaustible fuel source that is pollution and noise free. Green power use has surged at about 20 percent a year over the past 15 years, thanks to rapidly falling prices and gains in efficiency. Federal, state, and local governments offer great solar tax credits and rebates to encourage homeowners to switch to renewable energy and use a solar system. However, programs vary—some are generous enough to cover up to 30% of the solar system costs.
Some of the top professional companies like Green NRG Inc. have offers that are "hard to pass up for the average consumer," says CEO Yaar Kimhi. "Our clients understand the benefits very quickly, and with our comfortable leasing and financing options with zero down and a fixed monthly rate, covering the system and energy costs for years to come being lower than their original electric bill, makes it hard to pass up."
Renewable energy has a wide spread of benefits, including saving our earth, increasing value of your home, government incentives, and immediately saving you money by drastically lowering your electricity bill for decades to come.
2) Insulate your home:
Providing insulation in the attic and walls of your home, along with properly caulking and sealing doors and windows, will help trap the cool air from air conditioning inside your home during the sweltering summer.
3) Open the Blinds:
Open the Blinds! Why not leave the lights off and let some sun in? Lighting your house with sunlight costs nothing at all.
4) Unplug battery chargers:
Everyone these days has music playing devices, tablets, cameras, cell phones, laptops and all sorts of chargers that each use as we mindlessly plug them into wall outlets. When done charging your device, make sure to unplug the wall charger. Even when the device is not plugged into the charger, the charger still uses electricity.
5) Turn off lights and TV before leaving home:
Turning off your lights and TV before leaving a room or home is a habit which is going to save money on your electricity bill when done regularly – plus there is no truth to the myth that turning lights off and on uses more power than leaving them running, so no matter how long you're leaving a room for, turn off the light and the TV.