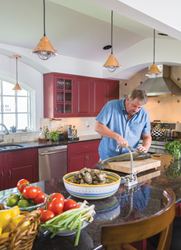 Rockville, Maryland (PRWEB) September 03, 2014
HOME & DESIGN's September/October 2014 issue will hit newsstands the first week of September! The Fall 2014 issue is sure to inspire with its focus on fabulous new homes and renovations designed by top local architects. This issue also features stunning bathroom retreats full of drama and style that give bath time new meaning. Our special landscape planning section features expert advice on creating perfect outdoor escapes, from cozy, flowering courtyards to elaborate pool projects.
Below is an excerpt from the Private Tour article featuring Chef Robert Wiedmaier as he hosts a summer soirée at his weekend home near Solomons Island:
On a breezy July afternoon, chef Robert Wiedmaier offered his guests morsels of savory-sweet Maryland crab, a taste of what would be on the menu that evening. The meal—also spotlighting fresh rockfish and Chesapeake Gold oysters—was not being served at one of his seven area restaurants, which include Marcel's, Brasserie Beck and Mussel Bar & Grille. Instead, Wiedmaier was whipping up a dinner for eight at his family's sprawling weekend home near Solomons Island, Maryland.
Only 75 minutes from his home in Kensington, Wiedmaier's four-acre property on the Patuxent River might as well be a world away from the pressure-cooker lifestyle of a successful DC chef/restaurateur. Robert, his wife Polly and their sons Marcel, 15, and Beck, 11, escape as often as possible to this retreat where they fish, waterski, ride dirt bikes, kayak and even go duck- and goose-hunting (minus Mom). With two fishing boats at the ready—an 18-foot Parker for solo trips and a 32-foot Luhrs for larger expeditions—Robert regularly hauls in rockfish and blue fish, along with crabs off the dock and oysters from beds just offshore.
In 1999, Wiedmaier opened his own fine French restaurant, Marcel's, named for his newborn son. Since then, there have been many debuts. Brasserie Beck now has two locations and Mussel Bar & Grille has three, with a fourth opening in Baltimore's Harbor East this fall—in addition to BRABO in Alexandria and Wildwood Kitchen in Bethesda.
Further magazine highlights include Signature Style, where Hugh Newell Jacobsen and Simon Jacobsen transform a faded DC apartment into a striking, Minimalist tableau; Farmhouse Living, where Donald Lococo instills a welcoming new home in McLean with a timeless, pastoral sensibility, Going Modern, where a couple and their architects bridge the gap between modern and traditional in the design of a new Arlington residence; Suite Life, where Ernesto Santalla creates a comfortable, secure—and exceedingly chic—retreat for a client's aging mother and Amazing Baths where designers pull out all the stops in custom bathrooms full of drama and style.
Datebook keeps you abreast of the latest design and art happenings. As always, this issue's Indulgences section tempts you with the best of the good life in travel, toys, fall fashion and food. It's an issue you won't want to miss!
Enjoy!
24/7 design ideas at HomeAndDesign.com