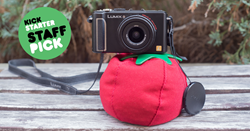 The Heirloom's low center of gravity means it is always balanced with any type of camera - from smartphones all the way up to DSLRs.
Brooklyn, NY (PRWEB) August 12, 2014
The Heirloom has launched on Kickstarter and is picking up steam! The "world's first tomato for cameras" provides the ability to take better quality photos with more versatility and portability than a tripod.
The Heirloom is a project by Josh Berry, a Brooklyn-based interaction designer and software developer. As an avid photographer, he has sought to create a way to take great photos on surfaces not well suited for tripods.
The secret is in the Heirloom's shape. Because it is spherical, it can be leveled, tilted, and stabilized on many kinds of surfaces. Trees, sand, and railings all invite the Heirloom to perch itself upon them. Most would be hesitant to rest their expensive DSLR on the ledge of a 5-story building with a mini tripod, but the Heirloom does it with authority. Use it for general photography, FaceTime, home video, travel, and more. The Heirloom's low center of gravity means it is always balanced with many types of cameras - from phones all the way up to DSLR cameras. It would be hard to find another tomato that can do that.
"You'll be able to take some amazingly sharp photos with your iPhone." - tuaw.com
The Top Kickstarter Campaigns This Week - eHow
The Heirloom is live on Kickstarter now through September 3: http://kck.st/1piBPZO.