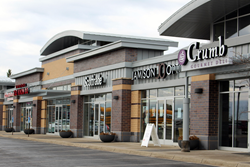 Free Kids Fun and Giveaways on Family Day, Saturday August 16
Eden Prairie, Minnesota (PRWEB) August 12, 2014
The Lone Oak Center is having a Customer Appreciation Week on August 11th – 16th. During the week, businesses will have special discounts, giveaways, open houses, and a chance to win door prizes. Family Day is Saturday, August 16th, from 9:00-3:00. The Lone Oak Center is conveniently located just South of Highway 212/5 on Mitchell Road in Eden Prairie. Learn about all of the business and their offers this week.
Jamison Optical wants to help patients look, see, and feel great. They have a trendy selection of Eden Prairie exclusive frames and provides "All Inclusive" eye exams that focus on eye health and personalized service that you will not receive at the chain retail stores. Come by and get a free bottle of lens cleaner and 25% off of all purchases. There will be a trunk show for Disney, Prada, Ralph Lauren, Polo and Vogue frames on Family Day. (Discount cannot be combined with insurance or any other offers)
Beacon Bank is a community-owned and operated bank. Their mission statement is "To Be Your Bank of Choice." Visit the bank during the week for treats and a door prize entry.
Crumb Gourmet Deli is not a typical sandwich shop. They only use fresh ingredients and prime cut, natural, slow roasted meats without nitrates or artificial additives. They have a great selection of sandwiches, salads and soups.
The Bruce Merry DDS dental team provides general and cosmetic dentistry in their unique facility. Dr. Bruce Merry (MN Vikings Team Dentist) and his son, Dr. Graham, encourage you to "chew over" their patient reviews at http://www.brucemerrydds.com. Stop by during the week for a dental "treat".
HealthSource Chiropractic and Progressive Rehab works with patients of all ages, to get them back on track to a healthy, pain-free life. They will be offering complimentary exams, consults, and x-rays during our appreciation week. On Family Day, the will be offering complimentary chair messages or children's spinal screens. (This offer does not apply to federal beneficiaries or ACN participants.)
JJs Coffee and Wine Bistro is a great place to get the day started with an espresso and end the day with a nightcap, and everything in between. They have just completed an expansion adding a full dinner menu and a full bar. Look for news on their re-Grand Opening in August!
Kidcreate Studio specializes in children's art classes, camps and art themed birthday parties for kids ages 18 months through 12 years. They provide a fun, self-esteem building atmosphere where children learn to express themselves through the visual arts. Parents can be assured their children are being educated in a supportive environment where giggles and grins are encouraged. Classes teach children about art concepts and techniques while exposing them to many different kinds of art materials. Their curriculum is packed with fun kid's art activities. Pottery classes, drawing lessons, painting and messy time are some of our student's favorites! For appreciation week, we will be offering a 20% discount on all summer and fall classes and camps. During Family Day, come by for a complimentary Clay Play art activity from 10:00-1:00.
Master Moons Tae Kwon Do teaches focus, self-confidence and respect to their students. Their students can start as early as preschool age. Master Moons is having an open house on Family Day. They will be offering a bouncy house, 30 minute participation demonstration, and give-a-ways. If you register for classes during the week, the registration fee will be waived and the student will receive a premium uniform for free.
Nails of Eden is a premiere full service nail salon where you can get an exemplary unrushed pedicure or manicure. Their salon is a perfect place to relax and get pampered.
Umbria Gourmet Pizzeria offers pizzas made with the best, fresh ingredients including pizzas like the Sicilian Classic, Mac & Cheese, Pot Roast and Thai Shrimp to name a few. But, they are more than just a pizzeria offering gourmet pastas, calzones, salads, hot & cold sandwiches, desserts, beer & wine. You may chose to dine-in and enjoy the relaxed atmosphere indoors on their patio, or use their take-out, delivery or catering services.
Underneath It All is an intimate apparel boutique that offers bras, camisoles, sleepwear, swimwear, nursing items, scarves, jewelry and more. They specialize in customized fittings and bras for all women, including full figured and those that have had breast surgery. Store wide discounts available all week.
Come and see the Lone Oak Center August 11-16 for great deals and to check out these local businesses.
About Jamison Optical
Dr. Jamison opened her eye clinic in Eden Prairie MN to give patients a more personal eye care experience. Their goal is to help patients see, look and feel great. The 'All Inclusive' Eye Exam is focused on long term eye health and giving patients the best vision options possible. They use the latest technology and the best material brands Varilux and Crizal. They offer personalized diamond cut digital lenses to give custom vision that not offered from a one hour lab. They have a handpicked selection of glasses, frames and sunglasses from the top brands in eye wear and exclusives you cannot find anywhere else in Eden Prairie. They accept most insurance: VSP, EyeMed and many others. Consider using Dr. Jamison as your Eden Prairie eye doctor.
Jamison Optical is located in Eden Prairie MN. Schedule an eye exam, contact lens exam, view eyeglasses and sunglass at our website http://www.JamisonOptical.com.