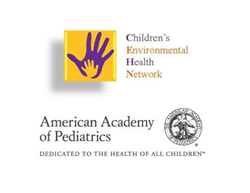 Washington, DC (PRWEB) August 12, 2014
The American Academy of Pediatrics (AAP) and the Children's Environmental Health Network (CEHN) today called on the U.S. Environmental Protection Agency (EPA) to better protect agricultural workers and pesticide handlers from potentially harmful pesticide exposures.
In comments submitted on August 11th, 2014, the groups both commended the EPA for some aspects of its proposed updated requirements regarding occupational pesticide exposures for agricultural workers and pesticide handlers, and also identified several areas where children would not be adequately protected by the Agency's proposed rule.
CEHN and AAP support setting 18 as the minimum age for handling pesticides, rather than 16, which is the age the EPA has proposed. The organizations wrote, "The Agency must recognize that teenagers under the age of 18 are still developing in critical physical and emotional areas, with particular regard to their brains and reproductive systems," noting that "In all other industries, 16 and 17 year old teenagers are not allowed to work with hazardous chemicals."
Improving worker training and education about take-home pesticide exposure will also protect the children of agricultural workers by decreasing their exposure to pesticides. The organizations are concerned not only with children's exposures to pesticides through occupational or 'take home' routes, but also with both maternal and paternal pre-conception pesticide exposures. The groups' comments detail the research that has found links between such exposures and harm to children's health.
The full docket comments are available at http://www.cehn.org/policy/recent_activities.
CEHN is a national multi-disciplinary organization whose mission is to protect the developing child from environmental hazards and promote a healthier environment. For more information, go to http://www.cehn.org/, and follow us on Twitter @CEHN.
The American Academy of Pediatrics is an organization of 62,000 primary care pediatricians, pediatric medical sub-specialists and pediatric surgical specialists dedicated to the health, safety, and well-being of infants, children, adolescents and young adults. For more information, visit http://www.aap.org and follow us on Twitter @AmerAcadPeds.