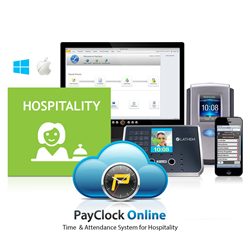 'With PayClock Online, I can view labor hours and process payroll for the 80 employees at all six locations without having to be at each hotel,' said Stablegold Hospitality District Manager Allen Gingrich.
Atlanta, GA (PRWEB) August 12, 2014
Stablegold Hospitality, a real estate investment company, has chosen Lathem's PayClock® Online to manage time and attendance for its six Atlanta area hotels.
PayClock® Online, Lathem's cloud-based software solution, enables District Manager Allen Gingrich to access employee time records and process payroll anytime, anywhere for 80 employees, eliminating the need to visit each property to manage time and attendance. PayClock Online's remote access also reduces payroll time for the family-owned and operated company.
"With PayClock Online, I can view labor hours and process payroll for the 80 employees at all six locations without having to be at each hotel," Gingrich explained. "It makes it easy to manage payroll and hours."
PayClock Online's time and attendance solution works well for the hospitality industry. Particularly for managers charged with running multiple properties, it offers the flexibility of managing employee time and payroll information remotely and quickly. Managers like Gingrich can access employee time and attendance information at any time, day or night, make changes, resolve issues and integrate the data into their payroll system.
Prior to switching to PayClock Online, Gingrich recorded time and attendance using paper time sheets. Verifying correct employee worked hours, fixing missed time punches and reversing multiple time entries was a challenge. Now, Gingrich uses PayClock Online integrated with Lathem's FaceIN® employee time clocks to efficiently manage time and attendance for the team.
Using innovative 3D-camera technology, FaceIN biometric time clocks verify an employee's face in seconds, eliminating "buddy punching," when employees clock in and out for each other.
With FaceIN, employee punch data is seamlessly transferred into the PayClock Online database for editing, running reports and exporting to popular payroll solutions like QuickBooks®, Paychex® and ADP®.
Because Lathem hosts PayClock Online on the web, there's no software to install or network servers for Gingrich to maintain, reducing any additional support and IT burdens for the business.
About PayClock Online
PayClock Online is a cloud-based solution that enables businesses to manage time and attendance anytime, anywhere with an Internet connection. This web-based employee timekeeping system allows managers to quickly process payroll on their own time, when it is most convenient for them. Mobile functionality lets managers track remote employees' hours or administer payroll from their own mobile devices. It's easy to set up employees to clock in and out from their computers, mobile devices, or even Lathem time clocks, and enable them to view their own time records and paid time off information on the web without supervisor assistance. PayClock Online easily integrates with popular payroll software systems like QuickBooks, Paychex, ADP and more.
About Lathem
Headquartered in Atlanta, Georgia, Lathem is the leading provider of durable and affordable timekeeping products for business. Founded in 1919, Lathem remains a family-owned and operated US manufacturer. More than 1 million organizations worldwide use a Lathem solution every day to help manage their business, including Lathem's PayClock Online cloud-based time and attendance systems, wall clocks, and biometric and mechanical time clocks.
In celebration of their 95th anniversary, Lathem has launched a year-long sales event that makes it easier for small businesses to upgrade to the latest technology in employee time and attendance management to improve productivity and streamline the payroll process.