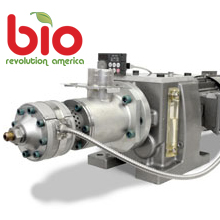 There has probably never been a time in the history of America when something this important could happen.
(PRWEB) August 12, 2014
When one thinks of fuel, generally they think of petrol or diesel which is manufactured by big oil companies and is not eco-friendly. They might also think of biofuel also known as agrofuel, which involves a detailed manufacturing process with heavy chemicals such as lye, ethanol or methanol. Imagine if there was another way to manufacture fuel? What if this way created biofuel, the purest and most available fuel on the planet, in a clean, organic process that was actually so clean one could drink it? Bio Revolution America has in fact done this with their biofuel manufacturing process, making this dream become a reality.
On August 3rd, Bio Revolution America launched a 45 day Indiegogo crowdfunding campaign to fund operations in Appalachia and beyond. They have gotten over 30% of their funding goal in the first week. With over 40 years of combined farming and engineering experience, they have a Bio extractor machine that has the potential to change the face of biofuel manufacturing forever. This machine extracts 100% carbon neutral bio oil and by products from plants using a cold oil extraction process. Cold oil extraction uses no chemicals or solvents and leaves everything in its natural, organic state. The oil can be used in foods or to run diesel engines in vehicles and has even been tested in Jets. The oils and pressed meal are also used for cosmetics, medicine and many other purposes.
"There has probably never been a time in the history of America when something this important could happen. Everyone wins! We help create jobs and income in the poorest parts of the U.S., We help save the environment, and become the world's leader in pure, green, bio technology on a large scale!" Says Bio Revolution America Spokesperson Randall Richards.
The company's mission is to help save the environment, create jobs and income in the poorest parts of the U.S. Upon reaching their Indiegogo funding goal they plan to have farmers in Appalachia plant seeds this Fall 2014 so that the plants can be harvested in the Spring 2015. The extractors are made in America in the mid-west, have 6 years of field testing and are patent pending. The initial outreach is taking place in Appalachia, but will expand from there to the mid-west and western U.S. in the next year.
For more information on Bio Revolution America and their Indiegogo campaign please visit their Indiegogo page at http://igg.me/at/BioRevolutionAmerica/x.
About Bio Revolution America:
Our American made, patent pending seed oil extractors are helping poor farmers in Appalachia make 100% natural Bio fuel & 280 organic food, health products. We will employ many in local communities to farm and process bio fuel and many other by products including health foods, protein feed stock, all natural hair and skin products, and hundreds more organic household products.With the help of numerous nonprofit agencies in these communities we are connecting with over 2,000 of the poorest farmers throughout Appalachia. These poor but proud, hardworking farmers will now have a new way to make income growing the very plants whose seeds will be the new bio green energy revolution in America! There is already a huge and growing available market for the fuel oil and other by products across the country, and after harvesting they will get the seeds from the farmers, extract the bio oil and by products. Pay the farmers on the spot for their harvests! Then process and ship the products to the end users all over America. Causing a true bio revolution in our country and around the world finally! For more information please visit our website at http://www.biorevolutionamerica.com/ or Facebook page at https://www.facebook.com/BioRevolutionAmerica.