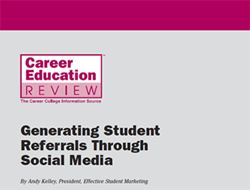 Reach out and engage with students and prospects where they are: on social media.
Andover, MA (PRWEB) August 12, 2014
Andy Kelley, President of Effective Student Marketing, a national higher education marketing agency located in Andover, MA, offered his expert advice in a recently published article appearing in Career Education Review. The 88-year-old Career Education Review provides education leaders, managers, investors, and suppliers with in-depth information they can use to survive and prosper in today's education arena. Career Education Review is a comprehensive resource for news, best practices, research, and commentary for those in the career college sector.
Kelley's article, entitled "Generating Student Referrals Through Social Media," offers his expertise as owner of Effective Student Marketing and a higher education marketing professional with more than 25 years' experience. The article gives actionable tips that leaders in post-secondary education can use to harness the power of social media to develop relationships with current students and attract new students to their programs.
Kelley says that students have always relied upon the recommendations of friends and family as they research and select their post-secondary education school. He notes that social media now gives schools a powerful tool to leverage the trusted recommendations of others to increase student enrollment.
Among the tips Kelley offers schools are:

Educate students on their way to enrollment by providing them with relevant information they can use as they consider their post-secondary education choices.
Reach out and engage with students and prospects where they spend most of their time: on social media.
Allow students to embrace their school as their own so they want to recommend it to others.
Measure the results of online marketing campaigns to determine their reach and effectiveness.
Those interested in reading the full article can find it on the Effective Student Marketing website.
About Effective Student Marketing:
Effective Student Marketing specializes in integrated online marketing strategies that bring together social media marketing, pay-per-click advertising, and content creation to help schools engage with prospects, students, and graduates at all stages of the student life cycle to achieve their student enrollment and retention goals. Andy Kelley founded the company in 2004, and he and his team have a "we'll figure it out" philosophy that combines creativity and technology to stay on top of the latest tactics and trends in the online marketing industry for higher education. You can find more information about their services at effectivestudentmarketing.com.