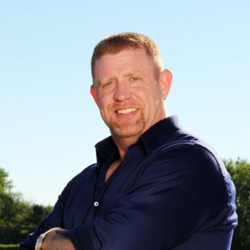 Steve said, "G became the guy I could call. G gave me a glimmer of hope. He believed in me and understood the dark place I was at. This was a turning point in my life."
Omaha, NE (PRWEB) August 15, 2014
Neil Haley, The Total Tutor host of the Simply G Radio show, interviewed Etrepreneur Steve Burroughs to find out about his business, and how Entrepreneur, Vi Millionaire and 5 Star Ambassador GJ Reynolds helped change his life.
Steve explained his story before bankruptcy. "I met GJ in the late 90's. I lived in Atlanta and owned a trucking company. I made the move in August of 2008, back to Nebraska to raise my children. Then, the economy hit the skids. We were running so many trucks and we could not get rid of the trucks fast enough to save my company. I had so many mouths to feed with family and and my employees as well. The money was not coming in and I had to do something."
Steve continued to share, "I was a big guy and well over 300 pounds. November 6, 2008 was the day I was going to take my life. I almost did it with a pistol. I decided I did not want to hurt my children and family. I chose to safely guide my company into bankruptcy. I cried when it was over and I had relief it was over."
Steve talked about how GJ helped him change his life. "I ran into GJ after several years since last seeing each other. He saw me in poor health. I had severe chest pains and was rushed to the hospital. I was in a position where I could not make house payments. GJ was doing really well financially. G became a sounding board, and more of a big brother to me. G became the guy I could call and he gave me a glimmer of hope. He believed in me. He understood the dark place I was at. This was the turning point in my life."
Steve took steps to recover from bankruptcy. He described this, "I am a warrior. I did what I had to do. I humbled myself. I was out mowing yards and was not too proud then. I never lost my fire. In the course of doing this, I had to take a job. A job is not what I wanted. I am not a job guy. I took a job and moved to Norfolk, Nebraska."
I never lost contact with GJ. GJ would text me, and continued to believe in me. I emailed him weekly." GJ gave him advice. Steve said, "GJ suggested I take this job. I then invented a product for a trucking company. We also started a truck freight agency. My wife runs this business and it is a huge blessing. In October I decided go back to working with my wife in our truck freight agency. We are beyond where we were before bankruptcy. Our trucking business is so good."
We also started a sideline business BigDaddyRagz. Steve shared, "BigDaddy Ragz brand was born out of necessity. I'm not only the founder, I am a very large man. I got tired of shopping in big and tall shops for shirts that make me either look 80yrs old, don't fit or that don't reflect my lifestyle. After an exhaustive search for clothes that "fit" what and who I am, I decided to start my own brand. A brand that exudes confidence and will fit in with who I am and what I like to do. You don't have to like fast bikes, cars, trucks or boats to wear BigDaddy Ragz brand because "there's a little big daddy in all of us!"
GJ Reynolds shared this, "Steve is definitely a warrior! He is a big guy in stature and a much bigger heart. As Coach Dale Brown has said to me, it is what you do when you are knocked down that counts. He has risen from the depths of depression and being suicidal to transform his life and his family's life! He chose life and now his story has impact with others. I am honored to call him my friend and more importantly my brother."
You can listen to this radio interview by going to http://simplyg.com/media/simplyg-radio/.