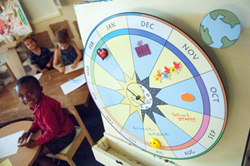 This is a tremendous opportunity not to just teach children about planning, but to introduce them to the basics of the world around them. The Cosmic Kids Calendar shows that time measurements aren't arbitrary. - Ryan Newby, Calendar Inventor
Temecula, CA (PRWEB) August 12, 2014
When Ryan Newby's kids started asking him questions about planning and scheduling, he realized there had to be a better way to teach them about the concept of time: Expressing the cyclical nature of days and years could help children visualize abstract concepts and speed their understanding of time and scheduling. The Cosmic Kids Calendar was born.
"Every parent constantly answers questions like 'Are we there yet?' or 'When is my birthday coming?'" Newby said. "These are incredibly abstract concepts for a young mind to grasp. I could make these ideas concrete to children if I could illustrate them physically."
After months of fine tuning, Newby, a science and education enthusiast, put the finishing touches on the Cosmic Kids Calendar. Distilling the basics of astronomy into a visually engaging face, the Calendar showcases the relationship between the Earth's rotation and its orbit around the sun, helping children understand the foundations for basic units of time. Abandoning the 12-hour layout of a traditional clock for a more natural 24-hour cycle, the Calendar breaks a child's day down into the expected cycles of day and night. As the single hour hand marks the progress of a day, an additional hand, the Earth, represents the time of year as it makes its slow orbit around the outside of the clock.
A face with bright illustrations breaks down the year into months and seasons, while allowing children to visualize up to a year in advance. Its dry-erase surface allows families and educators to customize it by adding stickers, magnets and notes to the Calendar, so children develop a sense of how to anticipate time from the celestial happenings that define their schedules.
Just as importantly as leading kids toward a working understanding of time, the Cosmic Kids Calendar introduces children to the fundamentals of astronomy, exposing them to scientific thought at an early age.
"This is a tremendous opportunity not to just teach children about planning, but to introduce them to the basics of the world around them. The Cosmic Kids Calendar shows that time measurements aren't arbitrary. It gets them tinkering with the ideas of astronomy at the same age when they learn their ABCs."
Newby designed the Calendar in his garage, developing a striking aluminum and stainless steel welded timepiece built to stand up to children's roughhousing, and is ready to bring the Cosmic Kids Calendar to the market. He has turned to the Internet to help crowd-fund his startup costs, with a Kickstarter campaign (https://www.kickstarter.com/projects/cosmickidscalendar/cosmic-kids-calendar) allowing early supporters to receive one of the first models that roll off the line.