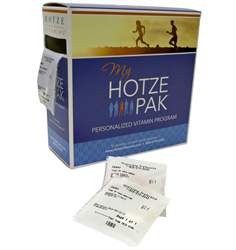 Because vitamins and minerals provide the nutritional foundation for a healthy immune system, supplementation is essential.
Houston, Texas (PRWEB) August 12, 2014
Hotze Vitamins™ is pleased to announce the release of its new customized vitamin product, My HotzePak™.
My HotzePak™ is a completely customized vitamin program that consists of daily, portable, vitamin packets that are personalized to each person, based upon their specific vitamin needs. Each box contains 30, 60 or 90 packets, depending upon individual preference. Each packet contains the person's name; the time of day to take the vitamin packet; the name and number of vitamins in each packet; along with the expiration date and order number.
My HotzePak™ will make taking vitamins easy and convenient because it will eliminate the hassles of opening and sifting through bottles, and counting vitamins to fill a pill box. The packets can contain any of the daily essential vitamins to help improve areas of health such as energy, sleep, memory, immune system, joint and muscle pain, and more. The packets are easy to carry and can fit into a pocket, purse or briefcase for easy travel.
Because My HotzePak™ is personalized, the options are endless. Hotze Vitamins™ has knowledgeable vitamin consultants who are available to help customize My HotzePak™ so that it contains everything each person wants and needs for their daily routine. My HotzePak™ is available to purchase over the phone at 888-450-4067 or in store. For more information, visit http://www.myhotzepak.com.
"As the founder and CEO of the Hotze Health & Wellness Center, Hotze Vitamins™, and Hotze Pharmacy, I have been working to help my patients achieve optimal health without drugs since 1989. Because vitamins and minerals provide the nutritional foundation for a healthy immune system, supplementation is essential," said Dr. Steven Hotze.
For more information about Hotze Vitamins™ and My HotzePak™, visit http://www.hotzevitamins.com and http://www.facebook.com/HotzeVitamins.
About Hotze Vitamins™:
Hotze Vitamins™, formerly Physician's Preference and a part of Hotze Enterprises, has been leading a wellness revolution by providing vitamin and mineral supplements of the highest quality, which contain no fillers, additives or artificial flavors, since 1993. Hotze Vitamins™ enables its customers to live healthier lives by helping them obtain and maintain optimal health naturally. All products are formulated at state-of-the-art facilities following the strict guidelines of the Natural Products Association's Good Manufacturing Practices (GMP) standards. These nutritional products have been researched and developed with optimal health in mind, and the entire product line is quality tested to ensure maximum potency and effectiveness.